Ernie, or more commonly known as Mermaid Man, is one of the characters in the SpongeBob SquarePants TV series. He is the star, together with his sidekick, Barnacle Boy, of a TV series within SpongeBob. Their TV series is entitled "The Adventures of Mermaid Man and Barnacle Boy." Though they are TV series stars, both of them are also superheroes living in Bikini Bottom, the main town that SpongeBob lives in.
Mermaid Man is not one of the main characters, as he is mostly a unique character, making appearances here and there. But he is still one of the top 10 funniest characters in SpongeBob. He is a human being who once lived on land and his superpowers are similar to that of DC Comics' Aquaman. It means he can also control sea creatures. But his similarity doesn't stop at the DC character's powers, as his costume is hilariously similar in a way. This article will be a Mermaid Man cosplay guide.
SpongeBob SquarePants: Mermaid Man Costume Guide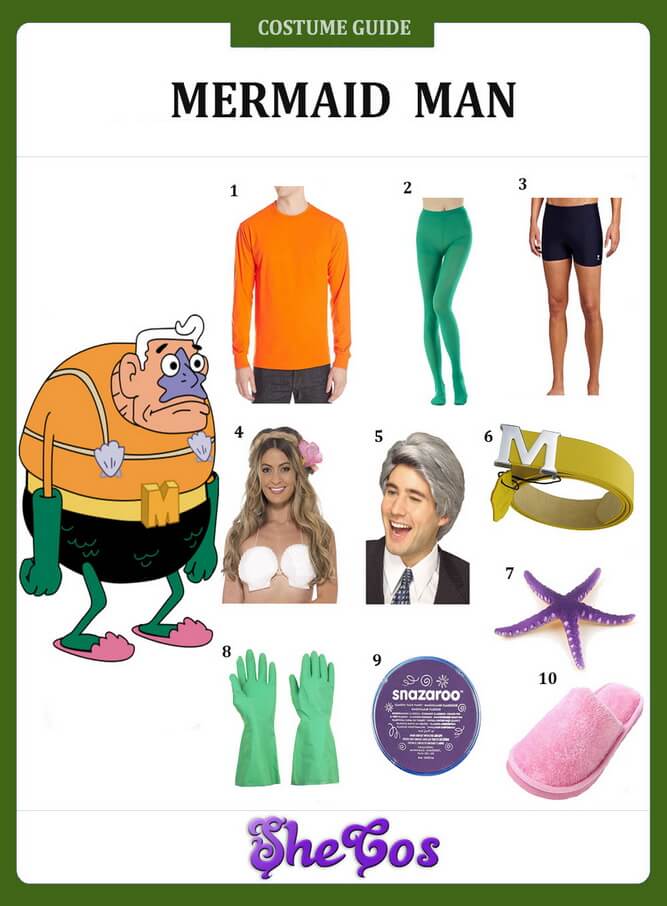 1. Mermaid Man T-Shirt                             Check Price
2. Green Tights                                             Check Price
3. Black Trunks                                             Check Price
4. Mermaid Man Bra                                   Check Price
5. Short Grey Wig                                         Check Price
6. Spongebob Mermaid Man Belt             Check Price
7. Mermaid Man Starfish Mask                 Check Price
8. Green Gloves                                            Check Price
9. Purple Body Paint                                   Check Price
10. Mermaid Man Slippers                        Check Price
The Best Mermaid Man of SpongeBob SquarePants Costume Ideas
Mermaid Man is a superhero TV star and the idol of SpongeBob and Patrick Star. He is already a retired old man by the time Patrick and SpongeBob met him. His appearance is a hilarious parody of Aquaman while his secret lair is a parody of Batman's Batcave.
Since Mermaid Man is a parody of Aquaman, his appearance is similar to him. It consists of an orange t-shirt, green tights, a pair of green gloves, and black trunks, which is close to the DC superhero's costume. Mermaid Man's look, though, also comes with a seashell bra, a yellow belt with an M buckle, and a pair of pink fur slippers. The set is completed with a short grey wig, a purple starfish prop, and a purple body paint to serve as Mermaid Man's starfish mask.
About Mermaid Man Costume
Mermaid Man is one of the characters of SpongeBob SquarePants. He is a human with superpowers that are living in Bikini Bottom, the setting of SpongeBob SquarePants. He is a retired TV star and superhero, but Patrick Star and SpongeBob convinced him and his partner Barnacle Boy to come out of retirement and be superheroes again.  The Mermaid Man character took its inspiration from Aquaman and a bit of Batman and Wonder Woman.
His invisible boatmobile is taken from the combination of Batman's Batmobile and the Invisible Jet of Wonder Woman. And his appearance and power are taken from Aquaman with a hilarious twist. Though he is a funny character, cosplaying Mermaid Man looks good, regardless if a man or woman wears the costume. Just look at the cosplay photos, you can see how the people who chose to dress up like him look good and alluring, especially the women. It's an excellent idea to dress up as Mermaid Man and Barnacle Boy couple costume with your friends.