Tina Belcher is the primary protagonist of the animated series Bob's Burgers. She is 13-years-old and the eldest among the Belcher children. She works at the family restaurant as its grill cook. Tina is a hopelessly romantic teenager who also has a powerful sex drive. She channels this drive into writing erotic fiction and movies.
A lot of fans consider her as the third best character in the series due to her combination of personality and quirkiness. She's a teen who loves horses and rainbows, as well as butts and 13-year-old boys. She denied her quirky side at first, but accepted it eventually, believing that there's nothing ashamed of it. Tina Belcher is also a favorite cosplay option for people looking to cosplay Bob's Burgers characters. This article is a Tina Belcher costume guide.
Bob's Burgers | Tina Belcher Costume Tutorial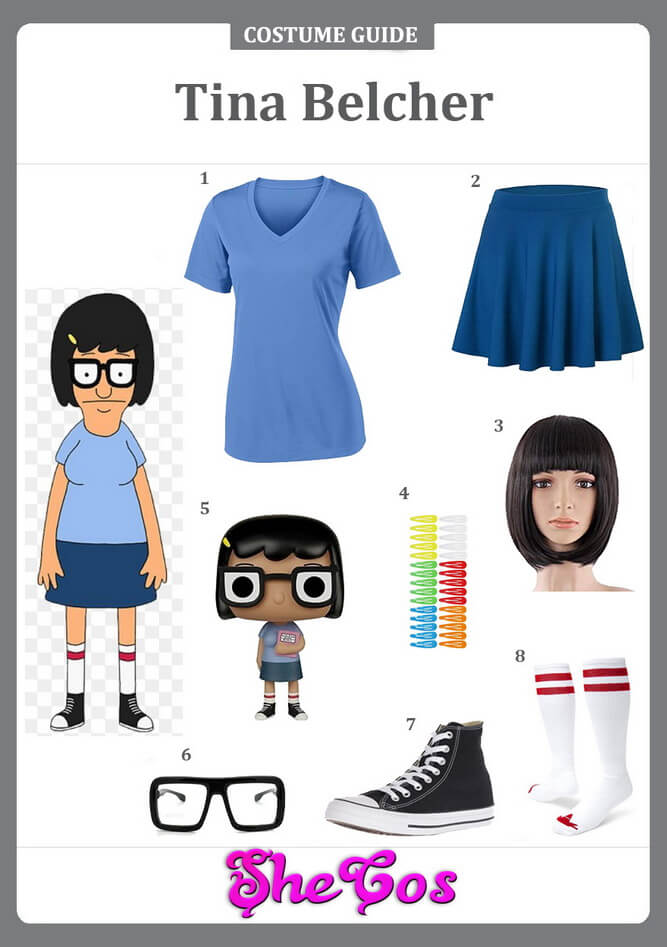 1. Tina Belcher Shirt                                     Check Price
2. Navy Blue Skirt                                         Check Price
3. Short Black Wig                                         Check Price
4. Hair Clip Set                                               Check Price
5. Tina Belcher Pop Figure                          Check Price
6. Tina Belcher Glasses                                Check Price
7. Black High Cut Sneakers                          Check Price
8. White Tina Belcher Socks                       Check Price
The Best Tina Belcher of Bob's Burgers Costume Ideas
Unlike Louise Belcher, Tina Belcher doesn't have an iconic accessory, but she is mostly seen wearing a blue outfit. She sometimes wears a purple dress for formal events, and her sleeping outfit consists of a purple top and grey bottom.
This cosplay guide will feature Tina Belcher's usual outfit. It consists of a light blue shirt and a knee-length navy blue skirt. The cosplay set will also come with a short black wig in the character's hairstyle, a pair of white socks with red stripes near the opening, and a pair of black high cut sneakers. The costume is completed with black thick-rimmed eyeglasses and a hair clip set with different colors that the character uses as a hair accessory. The set will also come with a Tina Belcher pop figure that you can display on your desk or shelf.
About Tina Belcher Costume
Fans of Bob's Burgers like Tina Belcher because she is her person but still tries to fit in with the cool kids. They also love the fact that she is a 13-year-old teenage girl that still loves horses and rainbows, as well as 13-year-old boys and butts. She is also very quirky, which is the typical quirkiness that teenagers experience when they transition from preteen to adolescent. She tried denying her interest with boys at first, but soon accepted it and believed there's nothing wrong with it.
Her first crush is Jimmy Pesto, Jr. but she develops an attraction to any boy she sees as cute. As the primary protagonist of Bob's Burgers, Tina Belcher is one of the first choices for ladies looking to cosplay characters from the series. Looking at the Tina Belcher cosplay photos, you can see that she is an excellent choice to dress up as during Halloween, costume parties, photo shoots or comic conventions.
The Bob's Burgers Tina Belcher Cosplay Makeup Tutorial