Miraculous: Tales of Ladybug & Cat Noir or more commonly known as the Miraculous Ladybug, is a CGI animated superhero series that debuted in 2015. The anime series is set in modern-day Paris and follows the lives of two French teenagers in Marinette Dupain-Cheng and Adrien Agreste.
But these two teens are not your everyday ordinary teenagers, as they transform into a superhero when evil is taking place using magical jewels called Miraculous. Adrien transforms into the Cat Noir, a superhero with the power of bad luck and destruction. His partner, Marinette, transform into the Ladybug superhero, where she gains the power of good luck and creation. These two characters use their powers to combat evil, particularly the main villain Hawk Moth, who seeks to steal their Miraculous powers.
Though this anime series is pretty new, it is already popular with a lot of people due to the uniqueness and appeal of the show's main characters. The two main characters are now becoming a popular choice for people to cosplay in. Cat Noir wears a black skin-tight catsuit with black mask and cat ears, while Ladybug wears a skin-tight red suit that has black spots, and a red mask with black spots.
The Miraculous Ladybug Chat Noir Costume Guide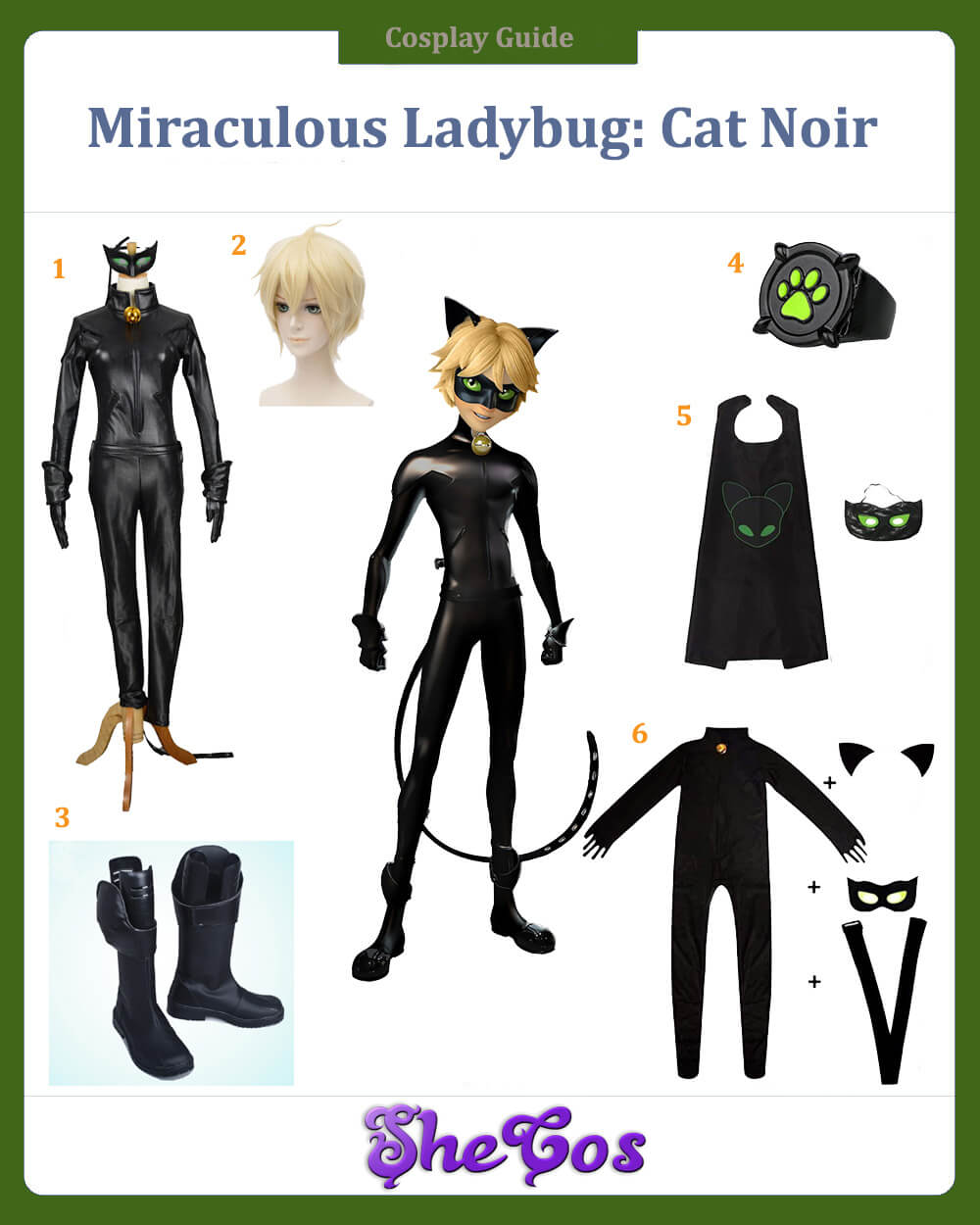 Parts you will need:
1. Adult Full Cat Noir Costume                  Product Page
2. Short Blonde Wig                                     Check Price
3. Black Boots                                                Product Page
4. Black Cat Noir Ring                                  Check Price
5. Black Cloak with Mask for Kids             Check Price
6. Full Cat Noir Costume for Kids              Check Price
Best Miraculous Ladybug Cat Noir Cosplay Guide
Adriene Agreste is a charismatic but shy and reserved boy due to his childhood of being unfamiliar with the world outside of his father's influence. But when he becomes Cat Noir, he has the freedom to act as he pleases, bringing out more of his wild and adventurous side. Cosplaying this character is simple since his costume only uses one color.
For this cosplay set, you will get Cat Noir's full costume. This full costume includes a black full body skin-tight catsuit with the tail and black gloves. It also includes the black mask and black boots to complete the outfit. For the accessories, you will get a short blonde wig and black Cat Noir ring. This cosplay set also comes with a Cat Noir costume for kids in case you have a kid and you both want to dress up as this character. The costume set includes the black full body catsuit, cat ears, a mask, and a black cloak.
About Cat Noir Costume
As the Cat Noir, Adriene Agreste has enhanced skills. His speed, strength, and agility are all beyond that of a normal human being. He also has near-invulnerability, which means he is almost unaffected by physical damage. But what people like about this superhero is his cat-like abilities like enhanced hearing, smell, night vision, and super stealth.
Then there's also his cat-like appearance when he transforms into the Chat Noir. If you are a cat lover, you will definitely like this costume. Just look at the cosplay photos, you can see how good the costume look, especially with a city background. You can try and mimic come of the action scenes in the anime, or create your action scene. The best part of the Cat Noir costume is that this is a costume for guys. It means that DC's Cat Woman is not the only cat-like superhero anymore, as guys now have a cat-like superhero character that they can dress as.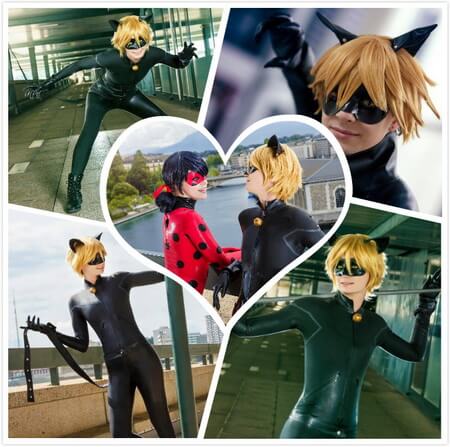 The Miraculous Ladybug: Ladybug Costume Guide
1. Long Black Wig                                         Check Price
2. Full Adult Ladybug Costume                 Product Page
3. Miraculous Ladybug Earrings                Check Price
4. Ladybug Bag and Mask for Kids            Check Price
5. Full Ladybug Girl Costume                     Check Price
Best Ladybug Cosplay Guide
Marinette Dupain-Cheng is a half French and half Chinese teenage girl that is sweet, outgoing, joyful, and somewhat clumsy and awkward. She also has problems with self-confidence and self-esteem, as she lacks them. But when she becomes Ladybug, a lot of her characteristics lessens and her confidence and bravery become more noticeable. Cosplaying this character is simple, considering there's not a lot of accessories needed. Her outfit is the hardest part of achieving.
For this costume set, you will get Ladybug's full costume. It includes the whole body skin-tight red suit with black spots and a red mask that also has black spots. The set also comes with a long black wig to match that of Ladybug's hair and a pair of Ladybug earrings. If you want to cosplay with a kid, then that won't be a problem as this costume set comes with a full Ladybug costume for kids. The guide also comes with a red mask that has black spots and a Ladybug bag for the kid to put her personal items in.
About Ladybug Costume
If you think a ladybug can never be used as an inspiration for a superhero, think again. The Miraculous Ladybug animation series has squashed that notion as one of their leading characters is a Ladybug superhero. She has enhanced speed, strength, agility, and she is almost invulnerable to physical damage. She also uses a special yo-yo as her weapon, wielding it in any way she wants.
But the main that people like about this superhero is that the creators were able to turn a ladybug insect into a pretty and appealing superhero. This makes the character a unique and great choice to try cosplaying something different. Just look at the cosplay photos, you can see that the ladybug appearance of the outfit makes the character more sexy and alluring. The costume is also perfect in whatever setting you intend to use it in, as its appearance is very flexible.
Cosplayers: Kadirine Cosplay, KICKAcosplay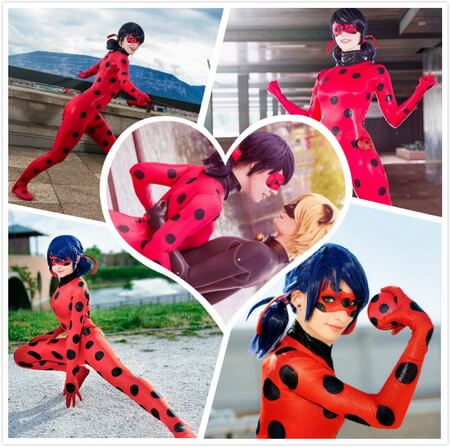 Miraculous Ladybug Makeup Tutorial