Jack Overland Frost, or just Jack Frost, is the main character in the animated movie Rise of The Guardians. Jack is an immortal being that has special powers, pretty much like the Guardians. He is capable of manipulating ice and snow, allowing him to use it as he pleases. However, Jack does have a big difference from the other Guardians. Unlike them, he is the classic rebel, a loner who doesn't have a cause.
Jack Frost is also a skeptic and mischievous individual. Jack Frost is the personification of the spirit of mischief and chaos. As the main character of the movie, Jack is undoubtedly its most famous character. A lot of people remember him more than the film itself. That's why they try to pair Jack Frost with a lot of famous princesses and heroines from different movies. This article is a Jack Frost costume guide.
Rise of The Guardians: Jack Frost Costume Tutorial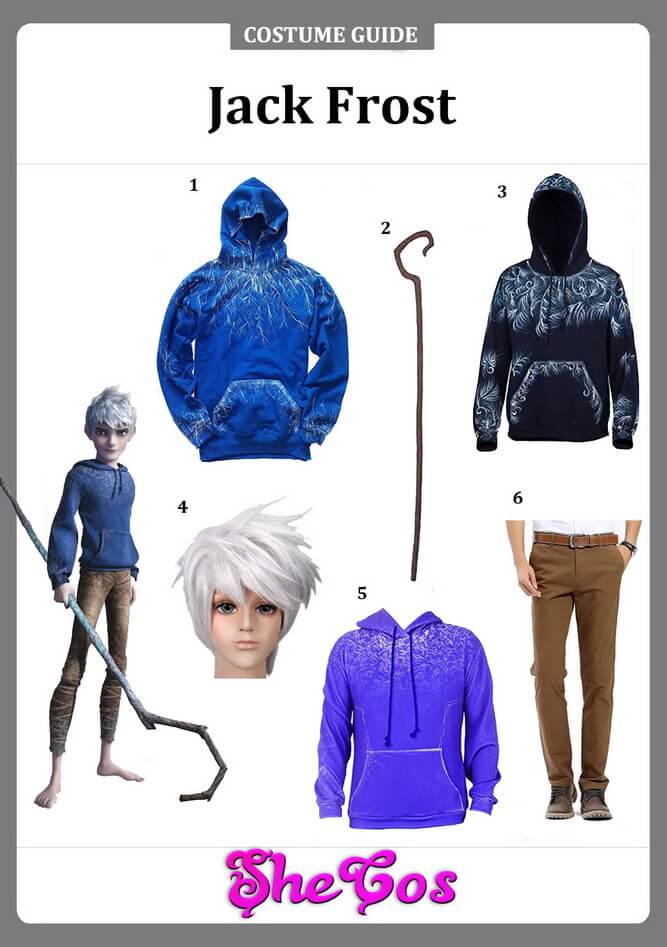 Parts you may need
1. Blue Jack Frost-inspired Hoodie            Check Price
2. Magical Staff Prop                                    Check Price
3. Black Jack Frost-inspired Hoodie          Check Price
4. Black Frost Blue Hoodie Sweater           Check Price
5. White Jack Frost Wig                               Check Price
6. Brown Trousers                                         Check Price
The Best Jack Frost of Rise of The Guardians Cosplay Ideas
As the manipulator of ice and a bit of a rebel, Jack Frost's appearance as a Guardian reflects that ability and personality. His skin color is bluish white while his hair is all white. Looking at his outfit, though, you don't think he is a guardian since he is only wearing regular looking clothes.
This cosplay guide will feature Jack Frost's appearance as a Guardian. The presentation consists of a blue hoodie sweater with some frost collecting around the collar area. The set will also come with brown trousers, a short white messy wig for Jack's hairstyle, and a prop of his magical staff that has a G-shaped arch. The magical staff looks like the one that shepherds usually use. The cosplay set will also come with a Jack Frost-inspired hoodie sweater. One is in color black and the other in color blue.
About Jack Frost Costume
Jack Frost has two different looks. One look is his human version, while the other watch is his Guardian version. As a human, his hair is color brown and his skin is fair, but he only had this look for a short time, which is why it is not really remembered. What people know about Jack Frost is his cold-inspired appearance, which is his white hair and bluish white skin. If you check out the Jack Frost cosplay, you can see how good this ice manipulating person looks.
He is also undoubtedly a popular character and the only character that a lot of people remember from the Rise of The Guardians movie. His popularity, though, goes way beyond just the video. A lot of fans are trying to pair him up with other heroines or princesses. One of the great pairings is Jack Frost and Disney's ice princess Elsa. That's why some couple does a Jack Frost and Elsa costume, which you can see in the cosplay photos.
Jack Frost Cosplay Makeup Tutorial