Joel Goodson is one of the main characters of the comedy movie Risky Business. He is the protagonist of the show and a high school student who is an achiever in school. Joel lives in a big mansion, together with his wealthy parents in Chicago. He is always under pressure from his parents to do well, especially his father, who wants him to attend Princeton University after high school.
But when his parents go on a trip, this allowed Joel to let loose, and it hilariously went wrong. This article is a Joel Goodson cosplay guide.
The Risky Business Joel Goodson Costume Tutorial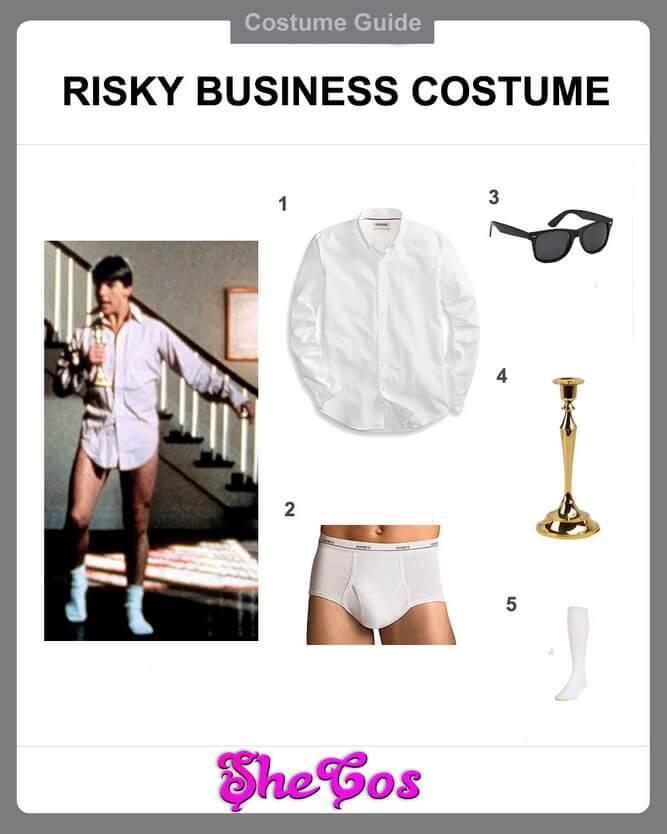 1. White Long Sleeves Polo                         Check Price
2. White Underwear                                     Check Price
3. Sunglasses                                                 Check Price
4. Gold Candle Holder                                 Check Price
5. White Socks                                               Check Price
The Best Joel Goodson from Risky Business Cosplay Ideas
Joel Goodson has worn a lot of different outfits throughout his appearances in the movies. He continually changes his outfits to match the scenario or situation that he is in. However, the character does have several iconic and funny outfits that people who watched the movie will always remember when they think of Joel Goodson. This guide will feature one of the iconic costume of Joel Goodson, which is the one he wore with only his underwear at the bottom.
The outfit consists of a white long-sleeved polo, which represents the red university stripe oxford cotton button-down shirt the character wore in the movies. The cosplay set will also come with white underwear short for the bottom, as the character was only wearing these in the scene. Included in the collection are a pair of white socks and black sunglasses. Completing the outfit is a gold candle holder, which Joel used as a microphone while he was doing the scene.
About Joel Goodson Costume
On the surface, Joel Goodson looks like the perfect high school role model. Rich, handsome, smart, and a high achiever in school. But in reality, he is just like any other high school student. He always fears that he won't get good grades or high scores in his exams and he still wants to have a good time. But his fear of not meeting his parents' expectations forces him to concentrate more on his studies. It makes the character a little overwhelmed and always stressed out.
That's why he took advantage of his parents leaving for a trip to let loose and have a great time. Though there were a lot of things that went wrong, in the end, everything worked out alright. Joel's let loose moment brought several iconic outfits that people will remember about the character. That's why fans of the movie will always have Joel Goodson as the favourite cosplay option if they want to dress up as characters from the comedy movie. If you look at the cosplay photos, you can see that the character's get-up is always good for laughs or oohs and aahs. It makes him a great option for costume parties or movie conventions.