Daria Morgendorffer is originally a supporting character in the animated series Beavis and Butthead before starring in her animated series entitled Daria. She is a high school student Lawndale High School and the eldest child of the Morgendorffer family. As a high school student, Daria is smart but also misanthropic and disaffected. She also has a cynical outlook in life that evolves as the series progresses.
But her best-known personality is her deadpan sarcasm. She also always has a dry but witty remark to almost anything and everyone in the series. Her witty remarks, sarcasm, as well as cynical outlook, makes her one of the favorite cartoon characters of all time. She is one of the top 50 cartoon characters of all time. A lot of people loved the role, which is why MTV created a spinoff series starring Daria in 1997. This article is a Daria Morgendorffer cosplay guide.
Daria Animated Series - Daria Morgendorffer Costume Guide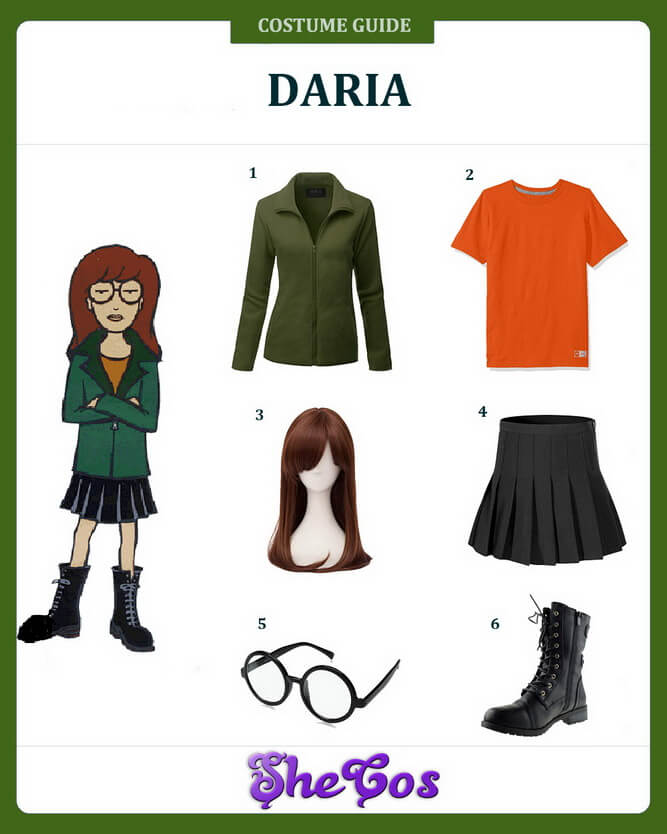 1. Daria Jacket                                              Check Price
2. Orange T-Shirt                                         Check Price
3. Daria Wig                                                  Check Price
4. Black Skirt                                                 Check Price
5. Daria Glasses                                            Check Price
6. Black Boots                                               Check Price
The Best Daria Morgendorffer of the Animated Series Daria Costume Guide
Daria Morgendorffer is the protagonist of the animated series Daria. She is a smart but disinterested high school student who is well known for her sarcasm and witty remarks. A lot of people like her because they can relate to her character. She is a teenage girl that's trying to her best to become her person while also dealing with her stressed-out parents and find time for her boyfriend. It makes her another good cosplay option.
Daria doesn't wear anything unusual, as she is mostly seen wearing one outfit throughout the series. This Daria costume guide will feature her usual outfit. It consists of a green jacket with an orange t-shirt underneath it. She also wears a black skirt and a pair of big black boots that is shin-length in height. The cosplay set will also come with eyeglasses and a long brown wig for Daria's hairstyle.
About Daria Costume
Daria Morgendorffer started as just a support character in the hit animated TV series Beavis and Butthead. But people loved the character's personality, sarcasm, and witty remarks that MTV gave her a spinoff series in 1997. The animated series aired until 2002. Daria was placed as one of the top 50 greatest cartoon characters of all time in the same year. She is still part of the list even today.
What makes Daria popular is not only her personality but because a lot of people were able to relate to the character. A cynical teenage girl that is trying to stand on her own, but also has a boyfriend and deals with stressed-out parents. The personality, combined with her everyday life makes ladies gush about this character. It also makes Daria a popular cosplay option. And if you look at the Daria cosplay photos, you can see how great she looks, despite not wearing anything unusual.
Daria Cosplay Makeup Tutorial