Lapis Lazuli is one of the main characters of the animated series Steven Universe and is a member of the Crystal Gems. But she wasn't originally part of the Crystal Gems, just mistaken for one in Gem Homeworld, which caused her imprisonment within a magical mirror. She got freed after convincing Steven to release her. She officially became one of the Crystal Gems when she went back to Earth to fight against the Diamonds.
As one of the main characters, Lapis Lazuli is also one of the favorite choices of people who are looking to cosplay characters from Steven Universe. This article is a Lapis Lazuli cosplay guide.
Steven Universe Lapis Lazuli Cosplay Tutorial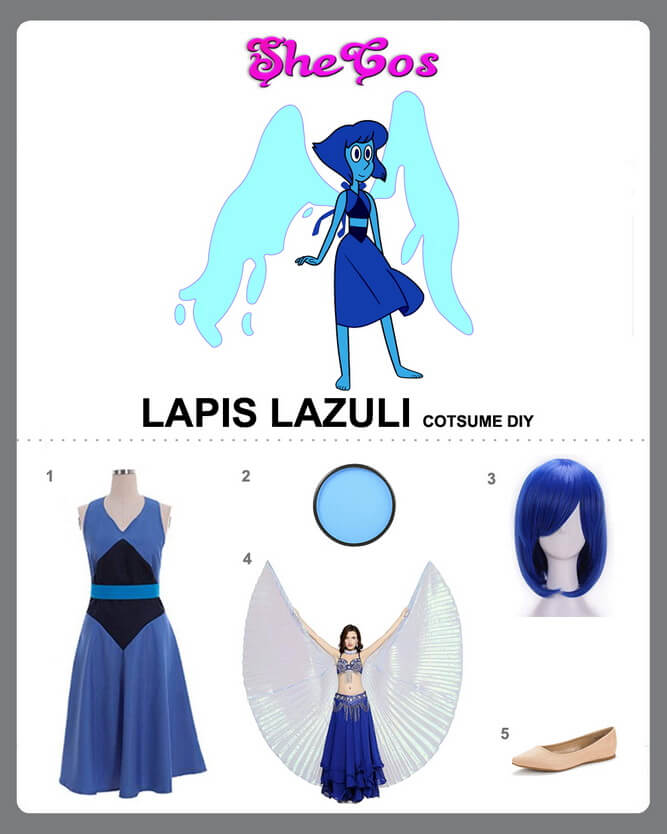 Parts you may need
1. Full Lapis Lazuli Costume                    Check Price
2. Blue Face Paint                                      Check Price
3. Blue Lapis Lazuli Wig                           Check Price
4. Lapis Lazuli Cosplay Wings                 Check Price
5. Lapis Lazuli Shoes                                 Check Price
The Best Lapis Lazuli from Steven Universe Cosplay Ideas
Crystal Gems usually wear the same outfit over and over, and Lapis Lazuli is no exception. The character, though, did change costumes after her regeneration. But this guide will feature the outfit that Lapis Lazuli wore before her regeneration.
It consists of a blue backless halter crop top tied to a ribbon on her upper back. It also has a dark blue design with an upward triangle on top to match perfectly with the halter top and a downward triangle from the waist down for the skirt. The Lapis Lazuli cosplay set also comes with a calf-length skirt that matches the color of the halter crop top.  The outfit is completed with a sky-blue sash tied around the waist and a prop of the character's wings. The collection will also come with a pair of peach flat shoes, a short blue wig for Lapis Lazuli's hairstyle, and blue face paint for the character's skin color.
About Lapis Lazuli Costume
Lapis Lazuli wasn't originally a Crystal Gem. But when she, in the Rebellion in Gem Homeworld, they mistook her for one after Bismuth poofed her. She was imprisoned in a magical mirror to Earth, and she stayed there for thousands of years. When she finally convinced Steven to free her, she went back to her Homeworld.
She didn't stay long as she was forced back on Earth and lived in the Barn with a newly reformed Peridot. The threat of another war forced her to leave Earth and take the Barn with her to the moon. She only returned when Steven found her and convinced her to come back and fight against the Diamonds. Lapis Lazuli is a tall and slim character, and her overall appearance makes her one of the favorite characters that fans of Steven Universe want to dress up as. If you look at the Lapis Lazuli cosplay photos, you can see that she is a great cosplay option if you're planning to attend a costume party or go to a comic or movie conventions. The character's unique appearance will make any wearer stand out in a crowd.
The Lapis Lazuli Cosplay Makeup