Orochimaru is one of the characters of the Naruto anime series. He is one of the legendary Sannin of the Konohagakure Village, along with Tsunade and Jiraiya. But unlike the two, Orochimaru became one of the villains of the series. Orochimaru had the ambition of gaining immortality so that he can live as long as he needs to complete all of the tasks he needs to do. But this ambition led to the character performing unethical experiments on his fellow ninja. He defected from Konohagakure after he was caught red-handed doing the experiments.
For a time, he sought the destruction of the Village as revenge for foiling his plans. He even joined the Akatsuki to try and achieve his goals. He soon realized that there is something wrong with his approach, so he opted to observe Sasuke Uchiha and see what he does and what decisions would he make. Even though Orochimaru is a villain, he is still a good cosplay option for people looking to dress up as Naruto characters. This article is an Orochimaru cosplay guide.
Naruto series | Orochimaru Cosplay Tutorial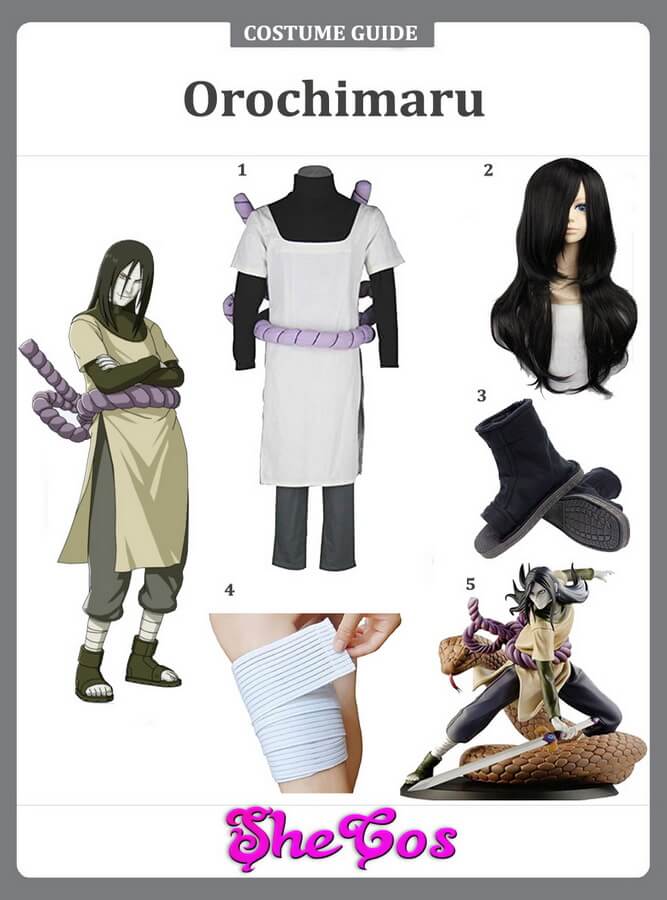 Parts you may need
1. Full Orochimaru Costume                       Check Price
2. Orochimaru Wig                                       Check Price
3. Orochimaru Ninja Shoes                         Check Price
4. Ankle Bandage                                          Check Price
5. Orochimaru Figure                                   Check Price
The Best Orochimaru of Naruto Cosplay Ideas
Orochimaru is a lot like the characters of the Naruto franchise who wore various outfits throughout the series. But he is also one of those rare characters who wore one usual outfit for the majority of his appearance. This cosplay guide will feature Orochimaru's usual costume.
It consists of a black long-sleeves polo that's buttoned until the neck area and with matching black pants. On top of it is a plain garb that has slits on the side to reveal the pants. It comes with a thick purple rope tied around the waist, bandages that are wrapped on the ankle area, and a pair of black ninja sandals. The costume also includes a long black wig that is styled to match the hairstyle of the character. The cosplay set will also come with an Orochimaru figure that you can display on your desk.
About Orochimaru Costume
Orochimaru is one of the villains that you'd love to root against. Though he does have a sad past, it's not as dire as some of the villains in the Naruto anime series. Add in the fact that he is mostly targeting a fan favorite in Sasuke Uchiha, and you have a character that you'll always root against. Despite this, Orochimaru is an intriguing character.
He doesn't crave to control the ninja world or reshape it into something that he likes. His ultimate goal is to gain immortality so that he will have enough time to accomplish everything that he set out to do, which is to master all of the knowns in the ninja world. That is why he is still an interesting character. He is also a good cosplay option since his appearance is a bit unique. If you look at the Orochimaru cosplay photos, you can see that he is the right cosplay choice if you are attending a comic con or costume party.
Naruto Orochimaru Cosplay Makeup Tutorial