Ino Yamanaka is a shinobi and one of the characters of the Naruto anime series. She is a member of Team Asuma, and they form the new generation's Ino-Shika-Cho trio. Unlike a lot of the characters in the series, Ino doesn't have a troubled or sad past. She was one of the famous students at the Ninja Academy.
Ino is bold, confident, not afraid to speak her mind, and is willing to take charge of the team. She was also good friends with Sakura, as she protected her from bullies. But they also became rivals after they learn they both like Uchiha Sasuke. Ino is not one of the hot characters of the series, but she was always one of the prettiest female characters. It makes a good cosplay option for ladies looking to cosplay Naruto characters. This article is an Ino Yamanaka cosplay guide.
Naruto series - Ino Yamanaka Cosplay Tutorial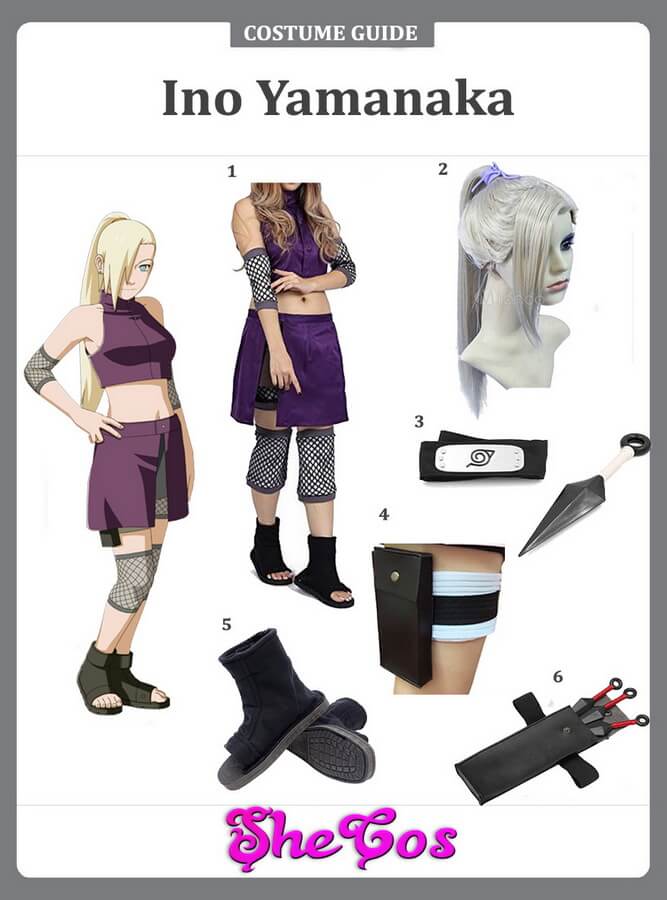 Parts you may need
1. Ino Naruto Shippuden Costume            Check Price
2. Ino Wig                                                       Check Price
3. Ninja Headband                                        Check Price
4. Leg Bandage                                               Check Price
5. Black Ninja Sandals                                  Check Price
6. Leg Weapon Bag                                        Check Price
The Best Ino Yamanaka of Naruto Cosplay Ideas
Though Ino Yamanaka is similar to other Naruto characters who wore several different outfits throughout the series, one distinguishing factor about her outfit is the color purple. Ino always wears purple outfits. This cosplay guide will feature Ino's Naruto Shippuden costume.
It consists of a high-collared purple blouse that reveals her shoulders, arms, and midriff. It also comes with a purple apron skirt with mesh armor on the thigs. The Ino cosplay set will also come with a pair of mesh armor on the elbows and knees. The appearance is completed with a long blonde wig in Ino's hairstyle. For the accessories, the set will come with a leg bandage and a black bag attached to the legs. The leg weapon bags would contain the kunai that ninjas usually carry. The cosplay set also includes a ninja headband with Konoha's symbol and a pair of black ninja sandals.
About Ino Yamanaka Cosplay
Ino Yamanaka was a popular student at the Ninja Academy due to her combination of looks and personality. She was also one of the talented ninjas in Konoha, and she has displayed this talent throughout the series. The character has shown the ability to go head-to-head against ninjas that are stronger than her.
But her real strength comes when she combines with her teammates, Shikamaru Nara, and Choji Akimichi. The three of them forms the new generation Ino-Shika-Cho, which is a formation that combines all their abilities to maximize their strengths fully. Ino is also one of the prettiest and attractive ladies in Naruto, which makes her a good cosplay option for ladies looking to dress up as a character from the series. If you look at the Ino Yamanaka cosplay photos, you can see that she is a good cosplay option for you to attend costume parties or comic conventions.
Naruto Ino Yamanaka Cosplay Makeup Tutorial