Lois Patrice Griffin, or more commonly known as just Lois, is one of the main characters of the animated sitcom Family Guy. She is the wife of Peter Griffin and the mother of Meg, Christ, and Stewie. Lois is a full-time mother who spends the day cooking, cleaning, and caring for Stewie. But she does teach piano on the side for added income for the family.
Though Lois is a typical housewife and the most standard character amongst the Griffin family, she does have her crazy and dark tendencies. Though she is not as popular as the other members of the family, there are still a lot of people who like Lois since she is the most relatable. She's also considered a hot and attractive cartoon character, making her a good cosplay option for ladies. This article is a Lois Griffin cosplay guide.
Family Guy Lois Griffin Costume Tutorial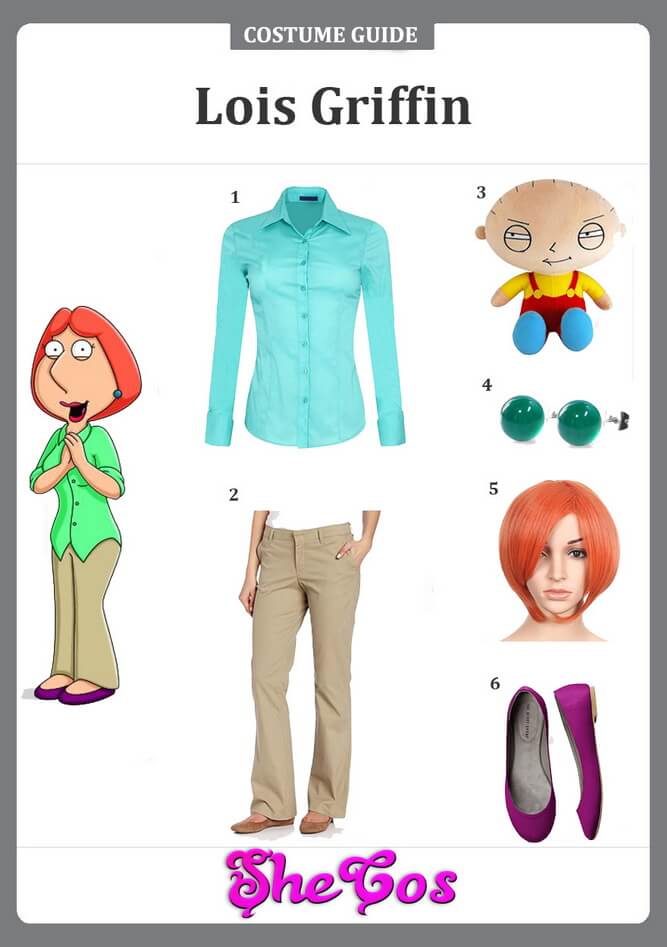 Parts you may need
1. Lois Griffin Shirt                                       Check Price
2. Cream-colored Pants                               Check Price
3. Stewie Plush Doll                                      Check Price
4. Green Sphere Earrings                            Check Price
5. Lois Griffin Wig                                         Check Price
6. Purple Doll Shoes                                     Check Price
The Best Lois of Family Guy Cosplay Ideas
Lois Griffin has worn a lot of different outfits throughout the Family Guy series. Depending on the scene or episode, the character was seen to different sport looks to match the storyline in the series. However, the character does have a typical outfit that she wears all the time. This cosplay guide will feature Lois Griffin's usual outfit.
It consists of a mint green long sleeves blouse, for the character's top, and cream-colored pants. The cosplay set will also come with a pair of green sphere earrings that Lois Griffin always wears and a pair of purple doll shoes. The cosplay set is completed with an orange wig in the character's hairstyle and a Stewie Griffin plush doll as a prop. Stewie is the prop since Lois is often seen carrying him around or checking up on him in his crib from time to time.
About Lois Griffin Costume
Lois Griffin is the most ordinary and sane character in almost all of Family Guy. She doesn't usually do stupid or crazy things, or get herself into all heaps of trouble like a lot of the sitcom's characters. That is why a lot of fans are fond of her since she's one of the few sane characters in the sitcom that is full of crazy people. However, Lois does have her dark and crazy side. Actually, She is darker and more insane than her husband and resident crazily stupid character Peter.
This crazy side to the character is also why some people like her because it shows she is not different from the other characters. You can even say she might be worse since she tries to hide her true nature, unlike the other characters. This combination of personality and her apparent attractiveness makes her a good cosplay option for ladies. If you look at the cosplay photos, you can see how great and attractive dressing up as Lois Griffin would look like.
Family Guy | Lois Griffin Cosplay Makeup Tutorial