Jordan Trace, or more commonly known as the codename Thermite, is one of the characters of the online tactical shooter game Tom Clancy's Rainbow Six Siege. He is a medium armored attacking operator in the video game, equipped with two Brimstone BC-3 Exothermic Charges. These charges allow players to breach through reinforced walls.
Now, Thermite's training began as early as after high school, where he joined the Marines and served two tours in Iraq. He used the money he earned to finish with a Bachelor's Degree of Science in Chemistry. He joined the FBI after graduating and transferring to FBI Swat after four years as a field agent. It makes Thermite an experienced military and field operatives, making him an excellent character to choose in playing the game. It also makes Thermite one of the right choices when it comes to cosplaying Rainbow Six Siege characters. This is a Thermite cosplay guide.
Rainbow Six Siege Thermite Cosplay Tutorial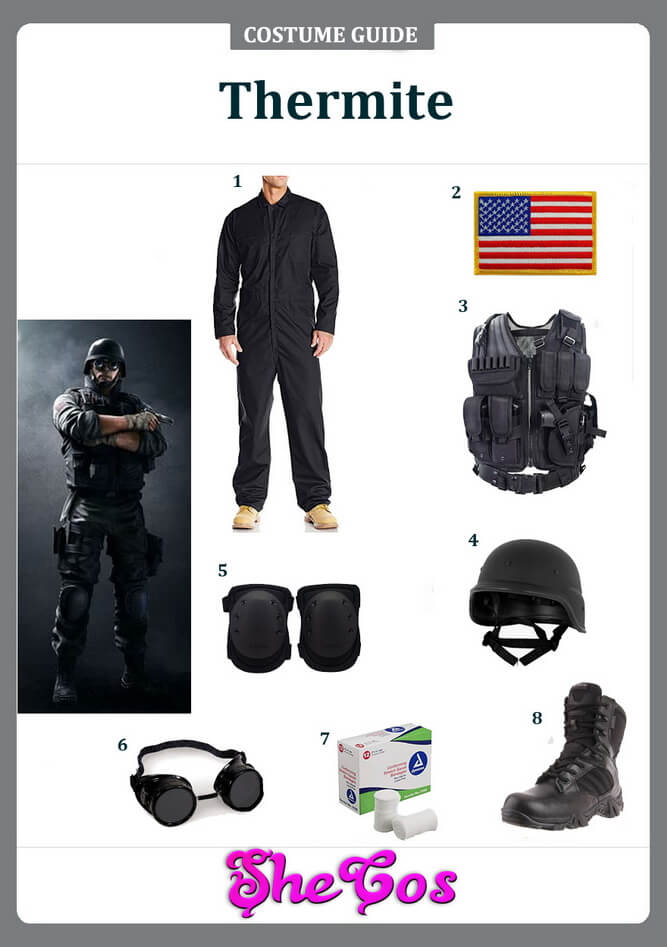 1. Full Thermite Costume                            Check Price
2. American Flag Patch                                Check Price
3. Tactical Vest                                               Check Price
4. Tactical Helmet                                         Check Price
5. Knee Pads                                                   Check Price
6. Acetylene Goggles                                    Check Price
7. Stretch Gauze Bandage                            Check Price
8. Combat Boots                                            Check Price
The Best Thermite of Rainbow Six Siege Costume Ideas
Cosplaying Thermite means that your appearance would need to look like a military or swat special forces, considering that's who the character is. If you always wanted to dress like a member of swat or the military, then this is now your chance. This cosplay guide will feature Thermite's complete tactical uniform.
His tactical uniform consists of a black full-body swat uniform with a black tactical vest, a black tactical helmet, and a black Acetylene goggles that the character is known to wear. The outfit also comes with leg holster, where the character's gun and explosives are attached placed. The cosplay set will also come with an American flag patch that is attached on the shoulder of the swat uniform. The cosplay set will also include a pair of black knee pads for each knee, a stretch gauze bandage, and a pair of black combat boots.
About Rainbow Six Siege Costume
Thermite is one of the important characters that players would always want in their team when they play Tom Clancy's Rainbow Six Siege. That is due to his ability to blast through reinforced walls. This allows teams to come up with strategies or tactic that can neutralize or kill all the enemies. But Thermite is not only a good character to play in the video game, but he's also a good option to cosplay. His cold military or swat appearance will allow people to feel what it's like to be part of the special forces.
If you look at his cosplay photos, you can see how cool looking Thermite is. He's a great character cosplay option for costume parties, comic conventions or photo shoots. His appearance is even a great look if you're someone who likes to play paintball or other similar war games.