Saul Hudson, or more commonly known as Slash, is the current lead guitarist of the rock band Guns N' Roses. He was one of the original members of the band, but he left in 1993. Slash returned to the band in 2016, after achieving success doing his own thing. He is also a songwriter and received critical acclaim for his music.
Actor Seymour Cassel gave the nickname Slash to Saul when he was a kid because he was always in a hurry, zipping from one place to another. His passion for music started when he was 14-years-old. He was hanging out with a girl when she played an album of Aerosmith. The music blew Slash away and his passion for music was born. This article is a Slash costume tutorial.
Guns N' Roses Slash Costume Guide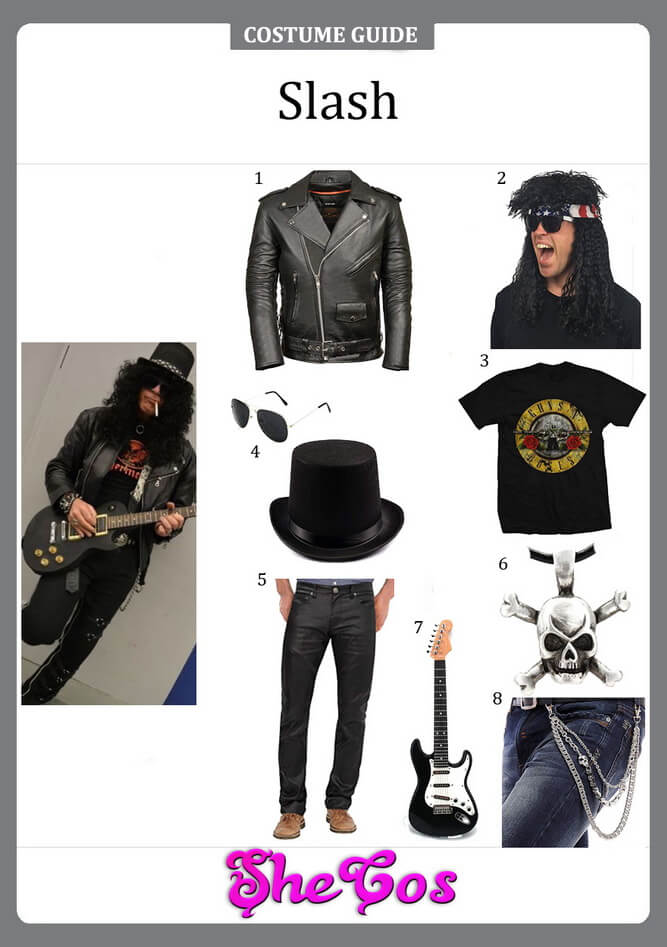 Parts you may need
1. Black Leather Jacket                                Check Price
2. Slash Wig                                                    Check Price
3. Black T-shirt with Design                       Check Price
4. Slash Top Hat                                             Check Price
5. Black Leather Pants                                  Check Price
6. Silver Skull and Bones Necklace            Check Price
7. Guitar Prop                                                 Check Price
8. Attachable Chain                                      Check Price
The Best Slash of Guns N' Roses Cosplay Ideas
Like most rock stars, Slash doesn't have a uniform that he wears when he is performing. He usually wears whatever he feels like wearing during their gigs. However, Slash does have a usual accessory that you will always see in his performance. This article will feature Slash's gig outfit.
It consists of a black t-shirt with design in the middle. The design can be anything since Slash is seen wearing a black t-shirt with various designs. The set also comes with a black leather jacket that he wears unzipped and black leather pants. The cosplay set also includes a black long curly hair for Slash's trademark hairstyle and his iconic black top hat. The cosplay set is completed with a silver skull and bones necklace, a guitar prop, and a small chain that you can attach to the belt holder of the pants.
About Slash Costume
Slash is likely the second most famous member of the Guns N' Roses rock band, second only to the lead singer and frontman Axl Rose. Though this rock start doesn't sing much, his guitar play is imposing. A lot of people consider him as one of the greatest guitarists in rock history, and the way he plays the guitar is enough evidence of that. Slash usually has a single guitar moment in their songs, and he always leaves people in awe after his performance.
His popularity and guitar play is also the reason why Slash is one of the favorite options of people who want to dress up like a rock star. His guitar play is not the only thing that makes Slash stand out, as his appearance plays a critical role in that as well. If you look at the cosplay photos, you can see how Slash's trademark top hat, sunglasses, and long curly hair makes him stand out in crowds.