Carmen Isabella Sandiego, or more commonly known as Carmen Sandiego, is the main character of the Carmen Sandiego franchise. She started as a character of the educational video game "Where in the World is Carmen Sandiego" before starring in her animated TV series. Carmen Sandiego is the main villain of the franchise. She is a master thief and was usually depicted as the leader and mastermind of the Villainous International League of Evil (V.I.L.E.).
She is the archnemesis of the ACME Detective Agency, as well as a stylish and fashionable woman. A lot of her heist in the video game was considered as almost impossible since she is shown to steal monuments. Her heist all over the world was used as a way to teach children about geography in the process of tracking Carmen. It was a fun game for many and one of the reasons Carmen Sandiego is loved. That's also why people were excited when Netflix came out with an animated series of the character. This article is a Carmen Sandiego costume tutorial.
Carmen Sandiego Costume Guide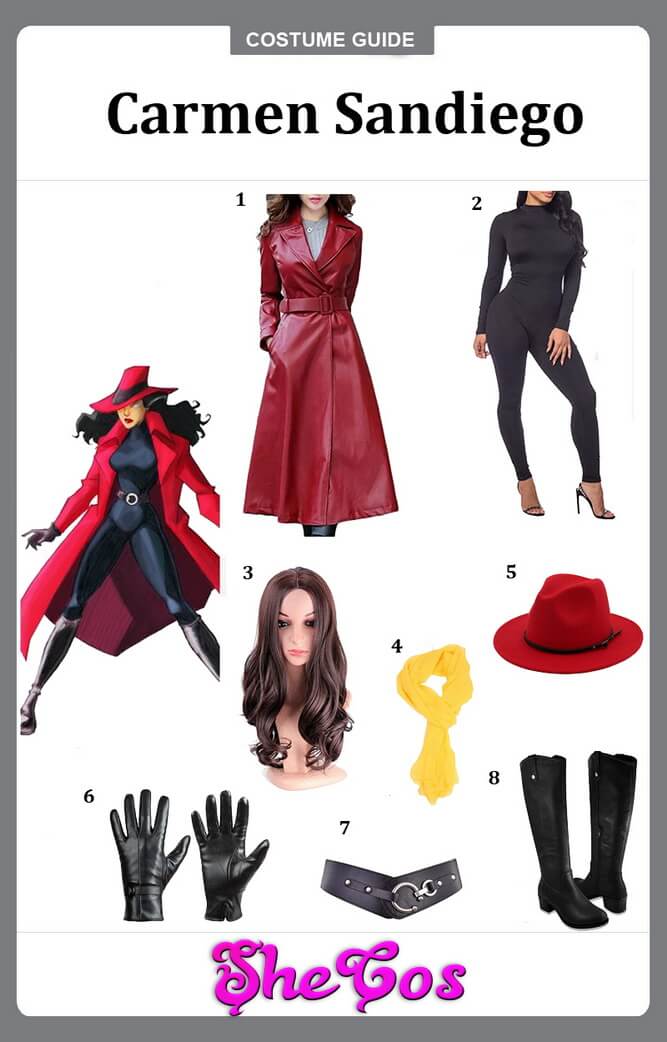 Parts you may need
1. Carmen Sandiego Coat                           Check Price
2. Black Jumpsuit                                        Check Price
3. Black Jumpsuit                                        Check Price
4. Yellow Scarf                                              Check Price
5. Carmen Sandiego Hat                            Check Price
6. Black Gloves                                             Check Price
7. Black Leather Belt                                   Check Price
8. Carmen Sandiego Boots                        Check Price
The Best Carmen Sandiego Cosplay Ideas
Carmen Sandiego is a mastermind thief who is also the leader of an infamous criminal organization. But she is also a fashionista, always wanting to look stylish while she does her heists. When people think of Carmen Sandiego, they always picture the stylish outfit she wears as she steals monuments from all over the world.
This Carmen Sandiego cosplay guide will feature her usual outfit. It consists of a black full-body jumpsuit with a red full-body trench coat on top of it and a matching red fedora hat that has a black design. The set will also come with a long black wavy wig for Carmen Sandiego's stylish hair. The collection will include a black leather belt, a pair of black gloves, and a pair of knee-length boots. The cosplay set also comes with a yellow scarf that Carmen wears in some depiction of the character.
About Carmen Sandiego Costume
Carmen Sandiego is one of those villains that shows you don't need to look ugly or scary to be considered a villain or an enemy. Her iconic red outfit is one of the things that people who played the game would remember about her. When playing the game, they tried their best to follow the trail and hunt down this sly, smart, and sneaky red coat wearing thief and finally put her behind bars.
Her evil deeds and fashionable look is the right combination that made her the perfect villain for children. It also made the character a good cosplay option for ladies who are looking to dress up like a badass character who still looks good. If you look at the Carmen Sandiego cosplay photos, you can see the perfect combination of mysterious, cunning, stylish, and fashionable with her appearance.
Carmen Sandiego Cosplay Makeup Tutorial