Happy Gilmore is the main character of a 1996 sports comedy movie with the same name. Adam Sandler plays the titular character, who was an unsuccessful hockey player as he only possesses a powerful shot and nothing else. The powerful shot, though, helped Happy achieve some level of success in golf.
He used this powerful shot to win an invitation to participate in a Pro Golf Tournament to earn money to get back his grandmother's house. Happy, though, was not your typical golfer since he is loud, has anger management issues, and has unorthodox antics. It makes him a hilarious character that people grew to love. One of the surprising things about this movie was that the Happy Gilmore character came from a real person. It makes him even more of a good option to dress up as during costume parties or conventions. This article is a Happy Gilmore cosplay guide.
The Happy Gilmore Costume Guide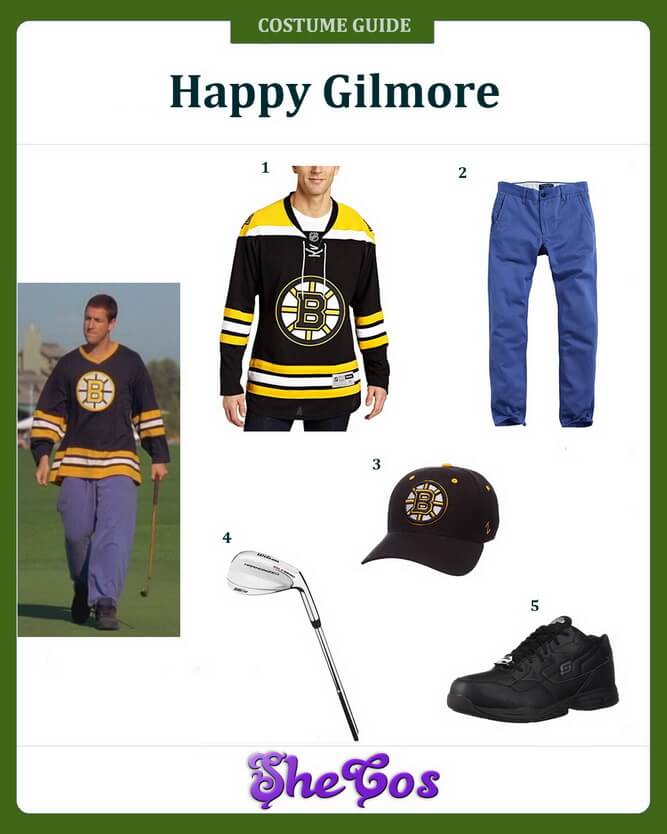 1. Happy Gilmore Jersey                              Check Price
2. Baggy Blue Pants                                      Check Price
3. Boston Bruins Black Cap                         Check Price
4. Golf Club                                                    Check Price
5. Gilmore Shoes                                           Check Price
The Best Happy Gilmore Cosplay Ideas
Happy Gilmore is the protagonist of the movie with the same name. He is an unsuccessful hockey player since all he has is a big swing. But that big swing is enough to propel Happy to have success in golf. His unusual antics and anger management issues, though, make him a very unprofessional but entertaining golf player. The character has worn a variety of outfit throughout the movie. But he is remembered more for the costume that he wore during the Pro Golf Tournament he participated in.
This Happy Gilmore cosplay guide will feature his outfit during the Pro Golf Tournament. The costume consists of a Boston Bruins Hockey Uniform with the surname Gilmore and number 18 at the back and baggy blue pants. The collection also comes with a Boston Bruins black cap and a pair of black rubber shoes. The Happy Gilmore cosplay is completed with a golf club prop.
About Happy Gilmore Costume
Happy Gilmore has always aspired to be a hockey player, and he has the potential due to his powerful slapshot. Unfortunately, he is unable to ice skate and he has anger management issues, which prevents any hockey team from accepting him. His powerful slapshot, though, proves to be an asset to golf. The powerful shot, combined with his unique personality and anger management issues, has made him a famous golfer to some people.
Since Happy Gilmore is just a regular person, he was seen wearing various outfits throughout the movie. But when it comes to dressing up as the character, the only gear you need is the one he wore during the PGA Tour golf tournament. It is his most iconic outfit in the movie, and you will know the reason if you look at the Since Happy cosplay photos. It clearly shows the character's personality since he doesn't wear traditional golf outfit. He chooses to wear his hockey jersey, baggy pants, and rubber shoes to the tournament, a big contrast to what golfers wear.