Marceline Abadeer is a main character of the animated series Adventure Time. Her father is a demon lord named Hunson Abadeer and her mother is a human. She is also known as the Queen of the Vampires and is already 1,000-year-old. Marceline is a fun-loving vampire and doesn't require drinking blood to survive. She needs to eat the color red to get what she needs to survive as a vampire.
Aside from being a fun-loving vampire, Marceline is also a musician. She plays the electric bass, which she made using the family heirloom battle axe. Lots of people consider her as the most popular character in the Adventure Time series, due to her pretty looks and beautiful voice. It also makes Marceline one of the popular choices when it comes to cosplaying Adventure Time characters. This article is a Marceline cosplay guide.
Adventure Time: Marceline Cosplay Tutoriall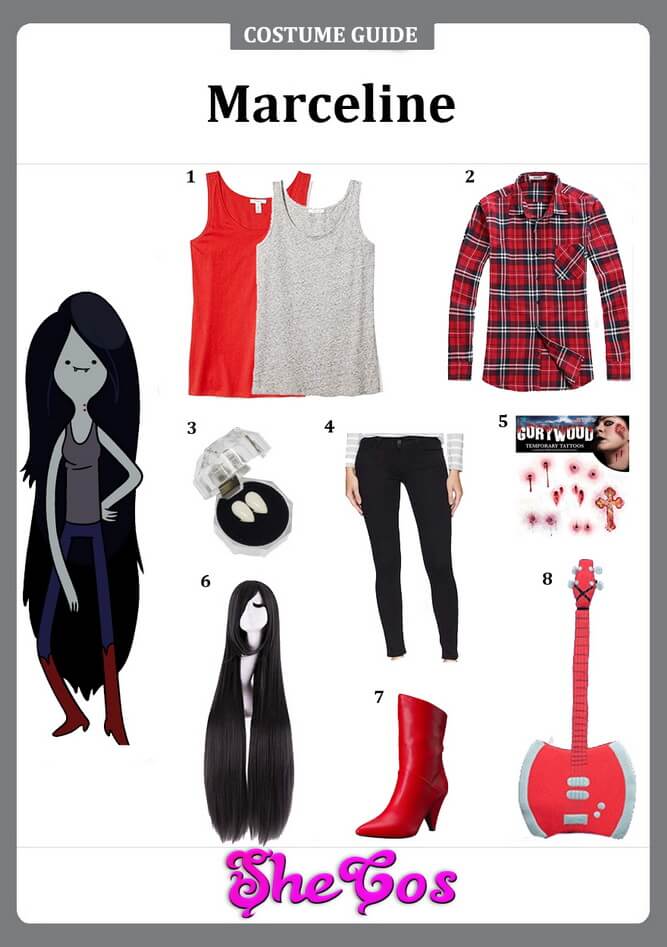 1. Tank Top                                                     Check Price
2. Red Checkered Long-Sleeves Polo        Check Price
3. Vampire Fangs                                           Check Price
4. Dark Blue Jeans                                         Check Price
5. Vampire Bite Tattoo                                 Check Price
6. Marceline Wig                                           Check Price
7. Red Marceline Boots                                Check Price
8. Marceline Guitar Prop                             Check Price
The Best Marceline of Adventure Time Cosplay Ideas
Marceline is not like many of the characters of Adventure Time, especially when it comes to appearance. That's because she usually wears a different outfit in most of her appearances in the series. It is in stark contrast to most of the series' main characters, where they all mostly wear the same outfits in all of their appearances.
This cosplay guide will feature the different outfit that Marceline wore. Marceline's usual outfit consists of a grey tank top, dark blue jeans and a pair of red heeled boots. The set will also come with a vampire bite mark tattoo, vampire fangs, and a long black wig for the character's hairstyle. Aside from the grey tank top, the set will also come with a red tank top and a red checkered long-sleeves polo. The Marceline cosplay set is completed with a prop of the electric bass guitar.
About Marceline Costume
Marceline began her life as a half-human, half-demon being. But when she tried to eliminate all of the vampires in the land of Ooo, the Vampire King bit her, thus turning her into a vampire as well. When she killed the Vampire King, she became the last vampire in Ooo, and this made her the Vampire Queen and gave the character her current appearance.
Now, a lot of people consider Marceline as the most popular character in Adventure Time due to the combination of her appearance, beautiful voice, and her affinity to play tricks to people. Her personality and attitude are that of a typical teenager likes to play games, a bit of mischief, and has daddy issues. It allowed a lot of people to relate to the character. That is also why a lot of ladies has Marceline as a cosplay option when they think of Adventure Time characters. If you look at the Marceline cosplay photos, you can see how good dressing up as her can be, especially for costume parties or comic conventions.
Adventure Time - Marceline Cosplay Makeup Tutorial