Nicholas Joseph Fury, or more commonly known is a Nick Fury, is one of the recurring characters in the Marvel Cinematic Universe (MCU). He was a former colonel of the U.S. Army and a very skilled spy of the CIA during the Cold War. His last government position was Director of S.H.I.E.L.D., where he established the Avengers Initiative before he began working in the shadows and providing assistance in any way he can.
His last appearance in the MCU was in Avengers Endgame, as he was one of the characters resurrected, following his death in the events of Infinity War. Despite not possessing any powers and the character playing more of a support role in recent Marvel films, Nick Fury is one of the best heroes in the MCU. He played a major role in phase one of the movie, holding everything together and acting as an all-knowing spy to end all spies. This article is a Nick Fury costume tutorial.
Marvel Cinematic Universe Nick Fury Costume Guide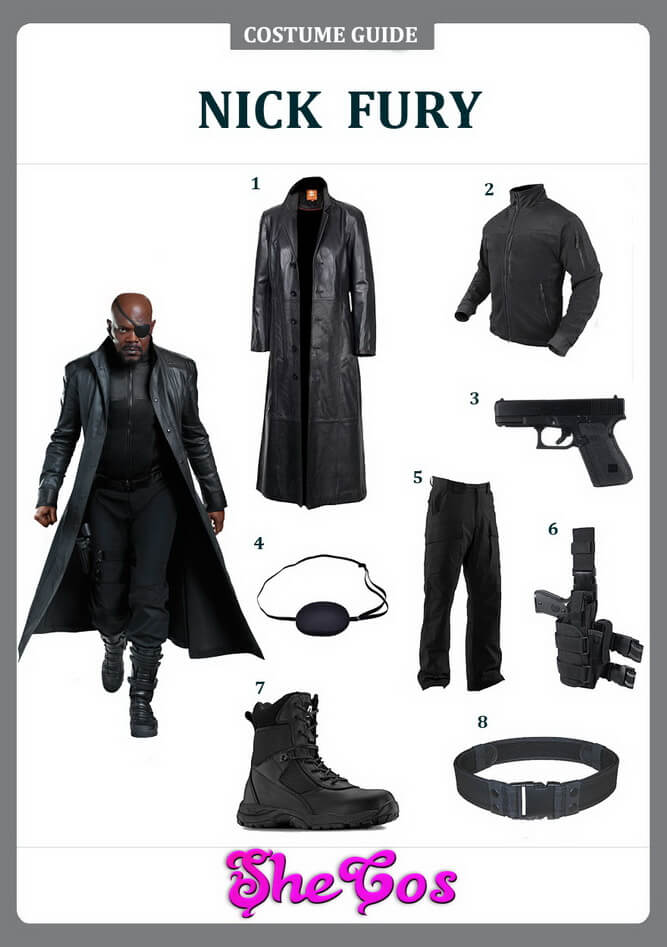 Parts you may need
1. Long Black Nick Fury Coat                    Check Price
2. Nick Fury Jacket                                      Check Price
3. Airgun Prop                                              Check Price
4. Eye Patch                                                   Check Price
5. Black Pants                                                Check Price
6. Leg Holster                                                Check Price
7. Black Boots                                                Check Price
8. Black Belt                                                   Check Price
The Best Nick Fury of the Marvel Cosplay Ideas
Nick Fury is not your typical high-ranking government official since he didn't leave the field, even when he became the Director of S.H.I.E.L.D. already. He prefers to be part of the action, doing field work himself to get things done. It is also reflected in his outfit since his uniform is more fitting for his image as a spy and an all-knowing individual than as Director.
This cosplay guide will feature Nick Fury's costume. It consists of a black jacket and black pants with a long black leather trench coat on top. It will come with a black belt, a gun holster that's attached to the leg, an airgun prop, and a pair of black boots. The cosplay set also includes Nick Fury's iconic black eye patch, which is worn to cover his left wounded eye.
About Nick Fury Costume
When the Marvel Cinematic Universe introduced Nick Fury firstly, he was a spy that is aware of everything that is going on and has a lot of secrets. Tony Spark even said that Nick Fury's secrets also have secrets. What Nick Fury dresses in the films also reflected his mysterious nature and badass attitude. His all-black outfit and iconic eye patch make for a cool-looking and mysterious character that you'd expect to know what is going on and what is going to happen.
It is true in a way since he did have an idea of what could happen in MCUs phase one. That is why he created the Avenger's Initiative to prepare the Earth against otherworldly threats. It makes Nick Fury one of the best heroes in the franchise. It also makes him a popular cosplay option for people. If you look at the Nick Fury cosplay photos, you can see how badass the character looks and how perfect he is for comic conventions.