Danny Zuko is one of the main characters of the musical romantic comedy movie Grease. He is a greaser, which is a youth subculture that was popular in the 1950s and 60s, and the leader of the T-Birds gang. He is also a high school student at Rydell High and the boyfriend of Sandy Olsson, which he tried to hide at first from his gang.
Danny Zuko met Sandy, who lived in Australia, during the summer and fell madly in love with her. When school started, he was happy and relieved to see Sandy enrolling at his school. But peer pressure from his gang and wanting to look cool forced him to act rude and insensitive towards her. Grease is a famous movie and Danny Zuko is at the forefront of that, despite some fans not really liking his personality and attitude. This article is a Danny Zuko costume tutorial.
Grease - Danny Zuko Costume Guide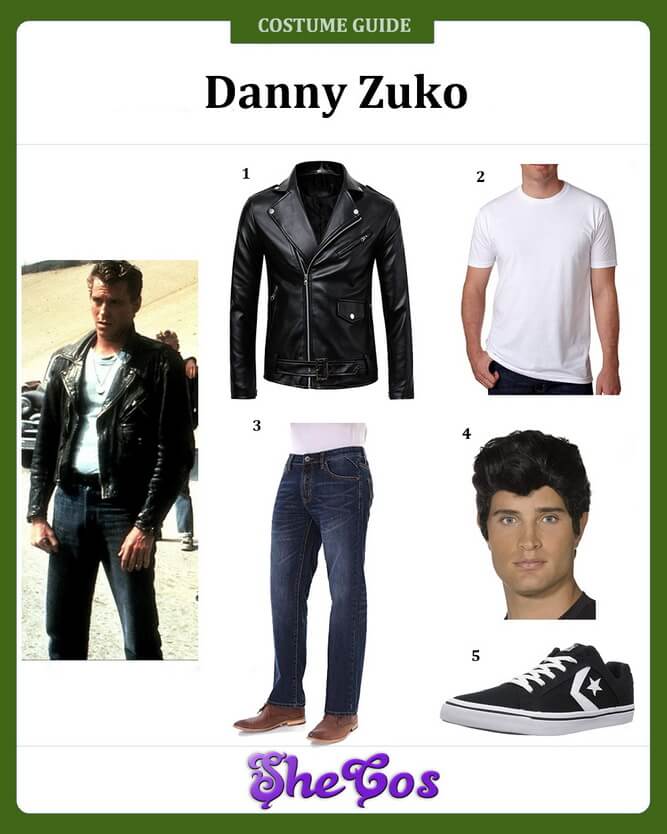 Parts you may need
1. Danny Zuko Jacket                                  Check Price
2. Zuko Shirt                                                 Check Price
3. Jeans                                                          Check Price
4. Danny Zuko Hair                                     Check Price
5. Danny Zuko Hair                                     Check Price
The Best Danny Zuko of Grease Cosplay Ideas
As the lead character of the musical romantic comedy movie Grease, Danny Zuko is undoubtedly at the forefront when it comes to the movie's favorite characters. Though he is immature and cares more about his social status, Danny fascinates people because of his handsome looks and neat appearance. The way he dresses and projects himself was deemed as cool and rebellious.
This cosplay guide will feature Danny Zuko's appearance. Though the character has worn various outfits throughout the movie, his most iconic appearance involves wearing a white t-shirt, blue jeans and a pair of black sneakers. The costume set will also come with Danny's iconic black leather jacket. And to complete the look, the collection also includes a short and thick black wig in Danny's iconic hairstyle.
About Danny Zuko Costume
Danny Zuko is immature, childish, and only cares about what people think of him. He wants people to look at him as this cool rebel gang leader that doesn't have a care in the world. Danny Zuko even dresses the part, always seen wearing a black leather jacket, together with his gang, a white shirt underneath and jeans. He is also seen wearing sunglasses and usually smokes a cigarette. This appearance is what was considered cool and badass in the movie.
If you look at the Danny Zuko cosplay photos, you can see that his appearance does look kind of cool and badass. The beauty of the character's look is that it is not only something you can wear for costume parties or photo shoots. You can even wear the Danny Zuko costume as a regular everyday outfit. But it is best worn for a costume party, especially if you have a partner who will dress up as Sandy Olsson.
How to Style the Greaser Hair