Cheryl Marjorie Blossom is one of the main characters in the hit series Riverdale. She is the twin sister of Jason Blossom, who's death was the central plot of the series' first season. Their parents are Clifford and Penelope Blossom, and the family owns the Maple Syrup business. Cheryl also used to be a member of the Southside Serpents, but Jughead booted her and her boyfriend Toni Topaz.
They started their gang and called it the Pretty Poisons. As one of the main characters of the hit series Riverdale, Cheryl Blossom is one of the favorite choices of ladies looking to cosplay as characters from the series. This article is a Cheryl Blossom costume guide.
The Riverdale Cheryl Blossom Costume Tutorial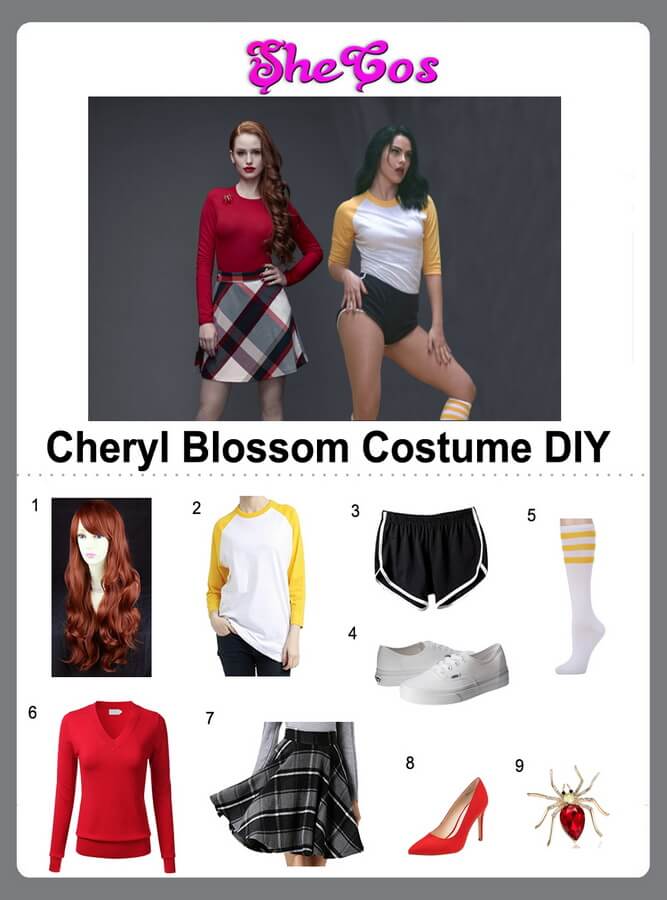 1. Cheryl Blossom Wig                               Check Price
2. Riverdale High PE Uniform T-shirt    Check Price
3. Riverdale High PE Uniform Shorts     Check Price
4. White Rubber Shoes                              Check Price
5. Long White Socks                                   Check Price
6. Red Long-sleeves Sweater                    Check Price
7. Black and Gray Plaid Skirt                    Check Price
8. Red High-heeled Shoes                         Check Price
9. Spider Crystal Brooch                            Check Price
The Best Cheryl Blossom from Riverdale Cosplay Ideas
Dressing up as Cheryl Blossom will give you a lot of choices since the character has worn different outfits throughout her appearance in Riverdale. She does have a usual costume, which is Riverdale High School PE Uniform, which she wears during cheerleading practice. This guide will feature Cheryl Blossom's high school PE uniform and one of her casual outfits.
The Riverdale High School PE uniform consists of a ¾-sleeved white t-shirt with yellow-colored sleeves and short black shorts that has white outlines. The Cheryl Blossom cosplay set also comes with a pair of knee-length white socks that have yellow lines design and a couple of white rubber shoes. For Cheryl's casual outfit, it will consist of a red long-sleeved sweater with a black and gray plaid skirt. The cosplay will also come with a pair of red high-heeled shoes and a spider crystal brooch. Cheryl Blossom's cosplay set is completed with a long red wig in the character's hairstyle.
About Cheryl Blossom Costume
Cheryl Blossom is a vibrant and entitled teenager, having grown up with a silver spoon. Despite their rich and privileged upbringing, Cheryl didn't have a good childhood. She only had her brother looking out and protecting her throughout their childhood. When Jason Blossom died, Cheryl's relations with her parents further deteriorated. Penelope blamed Cheryl because she tried helping her twin to run away and leave Riverdale and her father viewed her as a train wreck.
Her unhappy upbringing and their immense wealth contributed significantly to her entitled and snobbish attitude. Despite all of this, Cheryl is a popular character in Riverdale since fans are always intrigued about the character and how she would react to the things that are happening. Cheryl is also a pretty lady, which makes dressing up as her a good option. If you look at the cosplay photos, you can see that dressing up as Cheryl Blossom is a good idea if you are attending a costume party or comic convention.
The Cheryl Blossom Cosplay Makeup