Mabel is one of the main characters of the animated series Gravity Falls. She, along with her twin brother Dipper Pines, are the two protagonists of the series. Unlike her brother, Mable has a less severe approach to life. It doesn't mean she doesn't care; she chooses a happy outlook and prefers to smile even in the face of problems.
That is why she is one of the most popular characters in the series, next only to her brother. That's also why she is a favorite cosplay option for fans of Gravity Falls. This article is a Mabel Pines cosplay guide.
The Gravity Falls Mabel Pines Cosplay Tutorial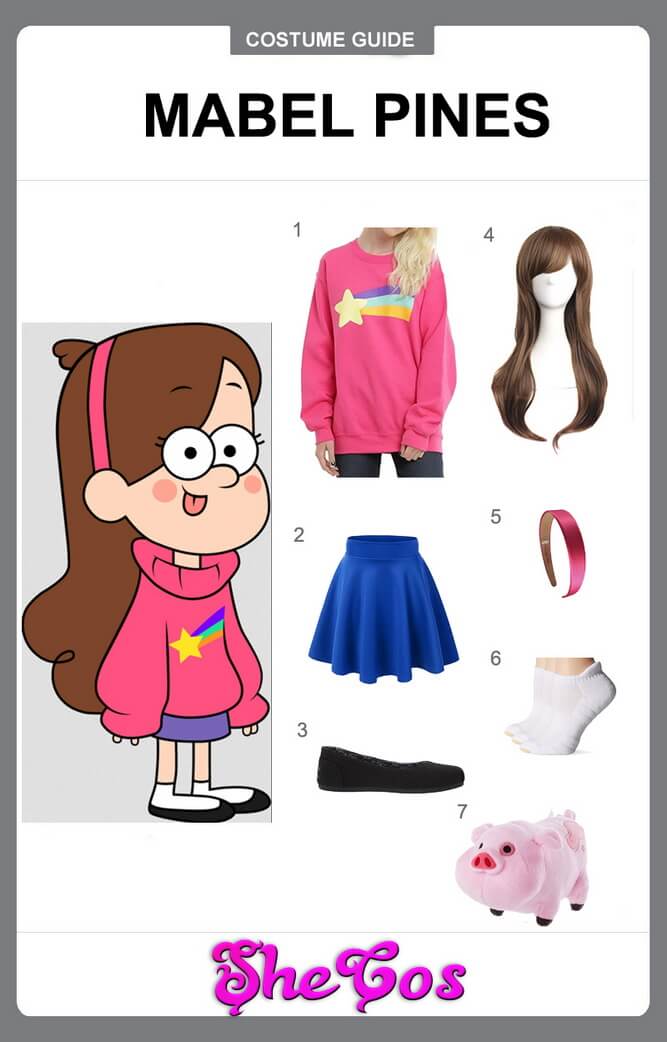 Parts you may need
1. Mabel Pines sweater Sweater                 Check Price
2. Blue Skirt                                                   Check Price
3. Black Mabel Pines Shoes                        Check Price
4. Brown Mabel Wig                                     Check Price
5. Pink Hair Bow                                           Check Price
6. White Socks                                               Check Price
7. Waddles Pig Plush Doll                            Check Price
The Best Mabel Pines of Gravity Falls Cosplay Ideas
Mable Pines is one of the rare cartoon characters who change clothes from time to time. It means that cosplayers of the character will have several choices when it comes to dressing up as Mabel Pines. This guide will feature one of the usual outfits that the character wears throughout her appearance in Gravity Falls.
The outfit consists of a pink sweater that has a shooting star with a rainbow as its tail design in the middle. The set will also come with a blue skirt, a pair of flat black shoes, and a pair of white socks that is ankle-length in height. The cosplay set is completed with a long brown wig for Mabel Pines' hairstyle and a hair bow that the character usually wears. The color of her bow is pink, but it often depends on the color of her sweater. The collection also includes a cut Waddles Pig Plush Doll.
About Mabel Pines Costume
Mable Pines is a free-spirited, active, cheerful, and enthusiastic girl. She has a positive and optimistic outlook in life, always smiling and finding the bright spots in any situation, even if it is a bad one. It makes the character a great complement to her twin brother, who loves solving mysteries. Her optimistic nature helps her brother a lot in solving puzzles, even if she is unaware of it.
Despite her positive attitude, she has shown the tendency to get her feelings hurt, especially from her rival Pacifica Northwest. She is also a terrible liar since she doesn't like doing it. The combination of her bubbly, innocent, and sensitive personality makes her one of the famous characters of gravity falls. It also makes her a favorite cosplay option of people who are fans of the animated series. If you look at the Mabel Pines cosplay photos, you can see that she is a great cosplay option and will look good in any wearer. The Dipper and Mabel costume is an excellent choice for cosplay parties or attending comic or gaming conventions.
The Mabel Pines Cosplay Makeup