Mai Shiranui, also known as The Alluring Ninja Girl, is one of the heroines of the Japanese video game company SNK Corporation. She is a playable character in the Fatal Fury and The King of Fighters video game series. She is a skilled fighter who trained in Ninjutsu, which she learned from her father and Jubei Yamada, a friend of her grandfather.
Mai Shiranui is also the lover of Andy Bogart, who she met when he came to train under her Ninjutsu master grandfather. Though Mai is a skilled fighter, she is also a beautiful and attractive lady. This article is a Mai Shiranui cosplay guide.
The Best of Mai Shiranui from SNK Video Games Cosplay Tutorial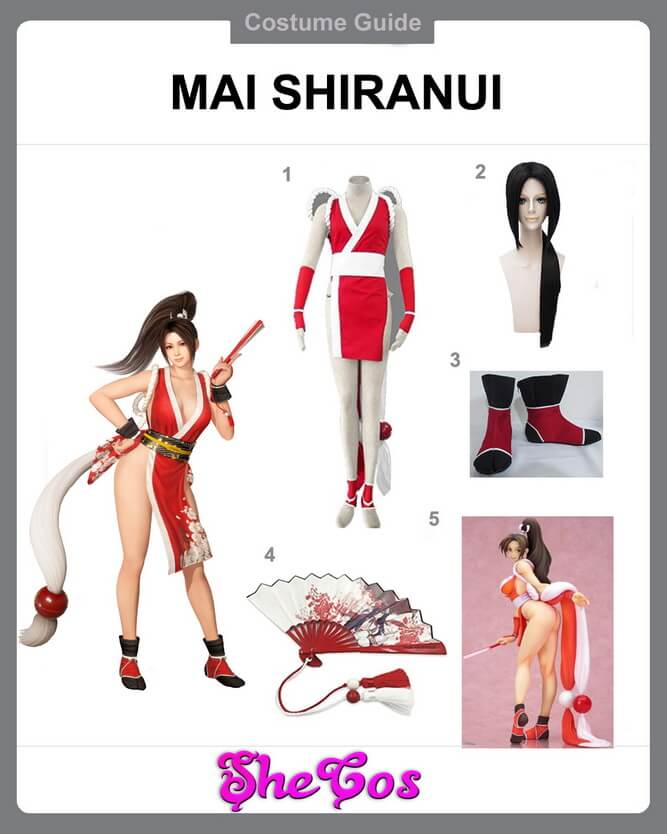 1. Full Mai Shiranui Costume                    Check Price
2. Black Mai Shiranui Wig                          Check Price
3. Ninja Shoes                                               Check Price
4. Folding Fan                                               Check Price
5. Mai Shiranui Figure                                Check Price
The Best of Mai Shiranui from SNK Video Games Cosplay Ideas
Mai is one of the most physically attractive and alluring female video game characters. SNK even used her as their female mascot and sex symbol, appearing in a lot of the company's promotional and marketing materials. The outfits that she wears also flaunts her assets, making her even more attractive. This guide will feature the usual gear that Mai Shiranui wears.
It consists of a red kunoichi dress with white outlines and a white sash tied around the waist. Two red and white tassels with red orbs at the tip are also attached to the dress. The cosplay set also comes with a pair of red fingerless gloves that extends to her elbows. The collection also includes a couple of black two-toed shoes that have red designs and a long black wig in Mai Shiranui's hairstyle. The cosplay set gear with a folding fan that matches the color and design of the character's outfit. A Mai Shiranui figure is also included.
About Mai Shiranui Costume
Mai Shiranui is one of the most popular and recognizable characters from SNK Corporation. Her combination of physical appearance, bubbly personality, and great fighting style has won over a lot of fans, including ladies. She was ranked 4th in GameSpy.com's Top Ten Babes in Games and 5th in the Top Ten Hottest Girls of the 16-Bit era of Game Informer. But she wasn't originally part of the Fatal Fury fighting game, as the developers were planning on using a man.
But when they decided they needed an idol character on the game, their concept of Mai was born. The character's assets were based on Japanese idol's such as Ai Iijima and Fumie Hosokawa. As one of the prettiest and most attractive video game character, Mai is also a favorite cosplay option for ladies. If you look at the Mai Shiranui cosplay photos, you can see that dressing up as her will make any lady stand out in a crowd. She's a great cosplay option for ladies who are attending comic conventions or those who are doing video game photoshoots.