Veronica Cecilia Lodge, or more commonly known as Veronica Lodge, is one of the main characters of the TV series Riverdale. The character's name and appearance are from a popular comic book, Archie Comics. Veronica is a high school student at Riverdale High School. She is also a member of the Riverdale Vixen and the leader of Veronica and the Pussycats. But the character is not just your typical high school student who has a lot of activities.
Veronica Lodge also played a significant role in saving the town. That is why people consider Veronica Lodge is one of the best characters in the Riverdale series. She is brave and bold enough to stand up against her corrupt father and try to do what is right and make up for her family's wrongdoings. That is why Veronica is also one of the favorite cosplay options for people looking to cosplay Riverdale characters. This is a Veronica Lodge costume guide.
Riverdale: Veronica Lodge Costume Tutorial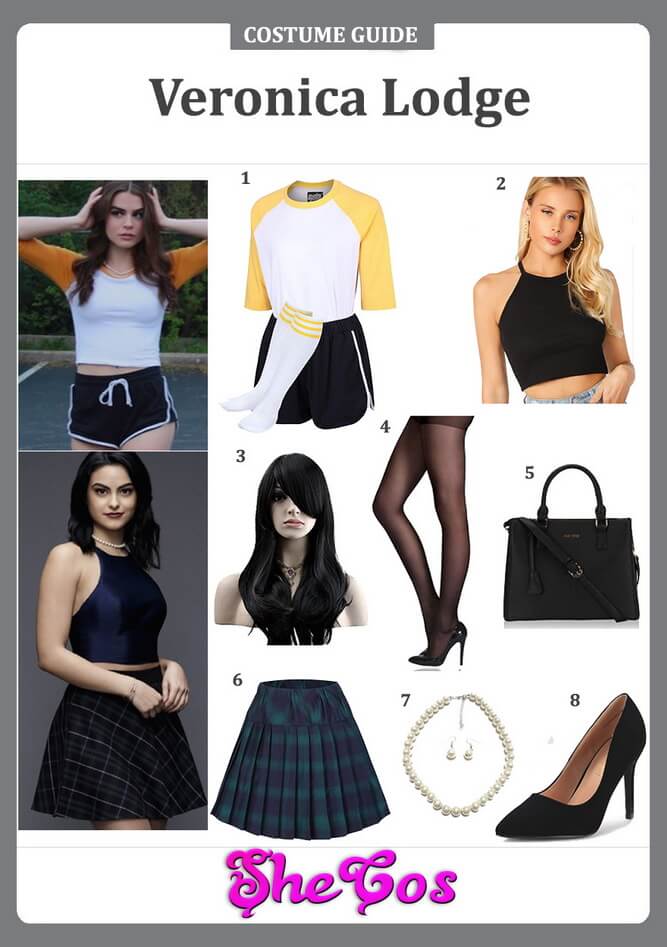 1. Veronica Lodge Training Outfit             Check Price
2. Black Halter Top                                       Check Price
3. Veronica Lodge Wig                                 Check Price
4. Black Stockings                                         Check Price
5. Black Hand Bag                                         Check Price
6. Dark Blue and Green Plaid Skirt            Check Price
7. Pearl Necklace and Earrings                   Check Price
8. Veronica Lodge Shoes                              Check Price
The Best Veronica Lodge of Riverdale Cosplay Ideas
Dressing up as Veronica Lodge is not easy since you'll have a lot of different outfits to choose from. The character, who is a rich city girl, is seen wearing different outfits throughout the episode. The only constant outfit Veronica wears is her school's training uniform, which She wears when the Riverdale Vixen trains. This article will feature Veronica's school training uniform and one of her usual outfits.
The school training uniform consists of a white ¾ sleeved t-shirt with yellow sleeves and shoulder area. It also comes with dark blue training shorts and a pair of white socks with yellow stripes. Veronica's usual outfit consists of a black halter top and a dark blue and green plaid skirt that's above the knee in length. The set will also come with a long black wig that is styled in Veronica's hairstyle. The cosplay set is completed with a pearl necklace, a pair of pearl earrings, and a couple of black high-heeled shoes.
About Veronica Lodge Costume
Veronica Lodge is one of the best and most popular characters in the Riverdale TV series. One of the factors for this character's popularity is her personality. She is a smart, confident, and bold girl who's also not afraid to do what is right. Her actions, even if it meant going against her father, has saved Riverdale countless times. That is why a lot of fans of the series like this character.
But Veronica's actions and personality is not the only one that makes her popular. She is also a lovely and beautiful lady. So she is one of the favorite characters that fans want to cosplay when it comes to Riverdale characters. If you look at the Veronica Lodge cosplay photos, you can see that she is a good cosplay option for costume parties or photo shoots.
Riverdale - Veronica Lodge Cosplay Makeup Tutorial