Wreck-It Ralph, or just Ralph, is the protagonist of the animated movie with the same title as the character's name. He is the villain of the video game Fix-It Felix, Jr. and he got his name due to his habit of wrecking everything that he touches. But he wasn't happy with how he was treated because of his role, so he decided to jump-game to try and prove himself to everyone.
As the main protagonist of Wreck-It Ralph, he is one of the most popular characters in the movie. He is also a good cosplay option for people looking to dress up as characters from the movie or animation characters in general. This article is a Wreck-It Ralph cosplay guide.
Wreck-It Ralph |Ralph Cosplay Tutorial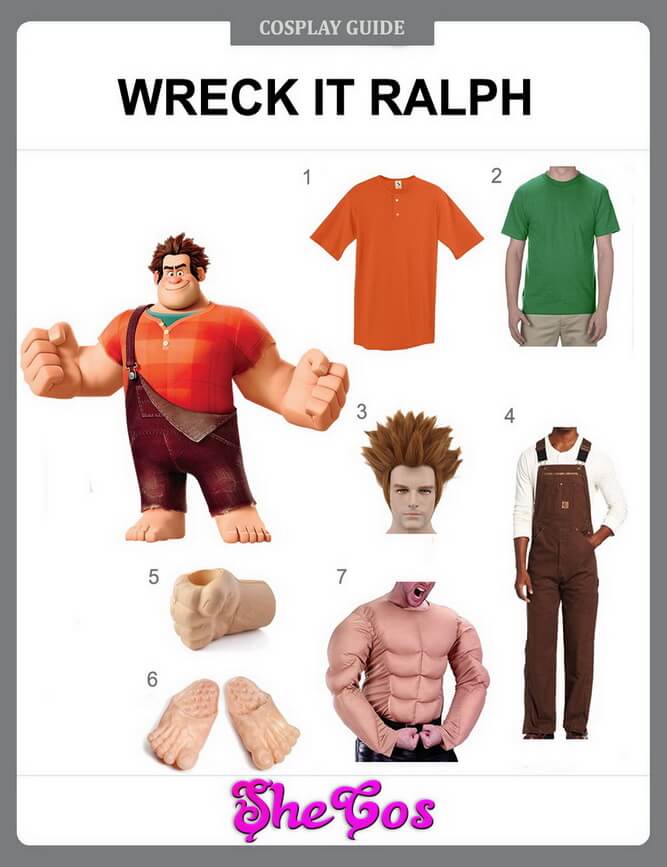 1. Orange Wreck-It Ralph Shirt                 Check Price
2. Green Wreck-It Ralph T-Shirt               Check Price
3. Wreck-It Ralph Wig                                 Check Price
4. Brown Duck Bib Overall                          Check Price
5. Big Hands Prop                                         Check Price
6. Jumbo Bare Feet Slippers                       Check Price
7. Muscle Costume                                        Check Price
The Best Ralph from Wreck-It Ralph Cosplay Ideas
Wreck-It Ralph is a massive character. He is big, has huge muscles, huge hands, and large feet. He is also strong, which makes it easier for him to break things, even if he doesn't mean to do it. The character's huge appearance is what will make it challenging to cosplay him. This guide will feature cosplaying Wreck-It Ralph.
It consists of a muscle costume to represent the characters huge and muscled-up body. On top of the muscle, the costume is an orange shirt with a green shirt underneath it for Ralph's outfit. The cosplay set will also come with a brown duck bib overall to complete the outfit that the character wears. Included in the list are a pair of big hand props for Ralph's huge hands, and a pair of jumbo bare feet slippers for his huge feet. The cosplay set is completed with a short brown wig in Ralph's spikey hairstyle.
About Ralph Costume
Ralph is a villain in the 8-bit game, Fix-It Felix, Jr., who is out to destroy apartment building constructed near his forest home. But outside of the game, Ralph is a friendly and kind person. The only bad thing about his personality is his short temper. But his role as a villain made him an outcast, which is why he decided to jump game so he can prove to everyone that he is not a bad guy.
Ralph's combination of personality, the adventures, and development he went through the movie, and how he eventually won over everyone, makes him a popular animation character. That is why Wreck-It Ralph is a great cosplay option for people looking to dress up as animation characters. If you look at the Ralph cosplay photos, you can see that his huge appearance will make anyone stand out. He is an ideal cosplay option for costume parties or comic conventions. He is even an excellent cosplay option for photoshoots.
The Wreck-It Ralph Cosplay Makeup Tutorial