Paddington Bear is one of the main characters of the live-action animated movie Paddington. The film was from the children's original stories of the character Paddington Bear. Paddington is from a species of intelligent bears who lived in the jungle of Darkest Peru. Since their species are brilliant, they can learn the English language. Paddington ended up in London due to an earthquake destroying their home and killing his uncle.
Upon arriving at London the Brown family took him in and even gave him the name Paddington since they met the bear at the London Paddington Station. Paddington Bear is a popular character, dating back to 1958 when the first story was published. This article is a Paddington Bear costume guide.
Paddington Bear Costume Tutorial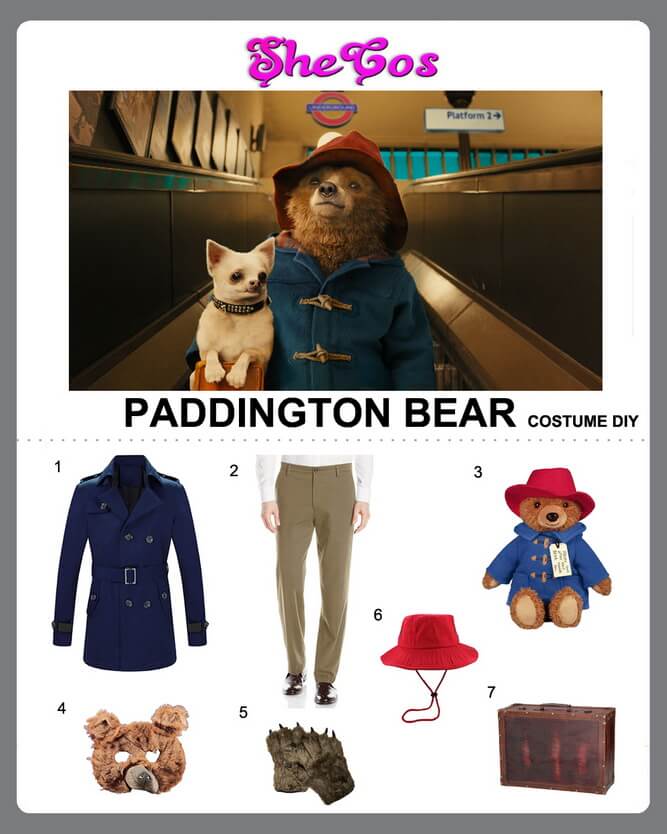 1. Paddington Bear Coat                             Check Price
2. Light Brown Khaki Pants                       Check Price
3. Paddington Bear Toy                              Check Price
4. Bear Head Mask                                       Check Price
5. Bear Paw Gloves                                       Check Price
6. Red Paddington Bear Hat                      Check Price
7. Suitcase                                                      Check Price
The Best Paddington Bear from the movie Paddington Costume Ideas
One of the iconic things about Paddington Bear is not just his ability to talk or his adventures, but also the outfit that he wears. The character mostly wears only one outfit throughout his appearances in the books, TV series, or movies. But that outfit is very iconic, and people will instantly recognize Paddington Bear because of it. This guide will feature the usual gear that Paddington Bear wears.
It consists of a blue trench coat and a red hat, which is the iconic appearance that Paddington Bear always sports. This outfit will already make people recognize that you are dressing up as Paddington. But if you want the full costume, this cosplay set has you covered. It also comes with light brown khaki pants, a bear head mask, and a pair of bear paw gloves. The Paddington Bear cosplay set is completed with a suitcase prop and a Paddington Bear stuffed toy.
About Paddington Bear Costume
Paddington Bear is an endearing character, which quickly made the members of the Brown family like him instantly. When they saw Paddington at the station, Henry Brown just wanted to help Paddington stay with them for a night while he finds a place that the bear can live permanently. But his wife, children, and their family relative housekeeper grew fond of Paddington, wanting him to stay with them.
But Paddington's goal for going to London was to find the geographer that his aunt and uncle met in Darkest Peru. Though Paddington is a bear, the Browns gave him some clothes to wear and the blue trench coat and red hat became an iconic outfit for the character. That is why people who want to dress up as Paddington need these two items to represent the character. If you look at the Paddington Bear cosplay photos, you can see that dressing up as a full bear or just wearing Paddington's clothes both look good on men and women, and it's perfect for costume parties or conventions.