Anna Marie, or more commonly known as Rogue, is one of the characters of the X-Men franchise. She is a member of the X-Men and her mutant power is the ability to absorb memories, physical strength, and superpowers of anyone she touches. She also can sometimes wipe their memories. The hard part of Rogue's powers is that she doesn't have any control over it. It means that she cannot touch any part of her body, or no one can touch her without the character absorbing their strength.
Like a lot of X-Men characters, Rogue started as a villain. She was a member of the Brotherhood of Mutants after Mystique adopted here when she was running away from home. As a member of the Brotherhood, they fought against the Avengers, and she used her powers to steal Carol Danvers' (Captain Marvel) powers and memories. This led her to seek the help of Professor Xavier, thus joining the X-Men. This article is a Rogue cosplay guide.
X-Men Rogue Costume Tutorial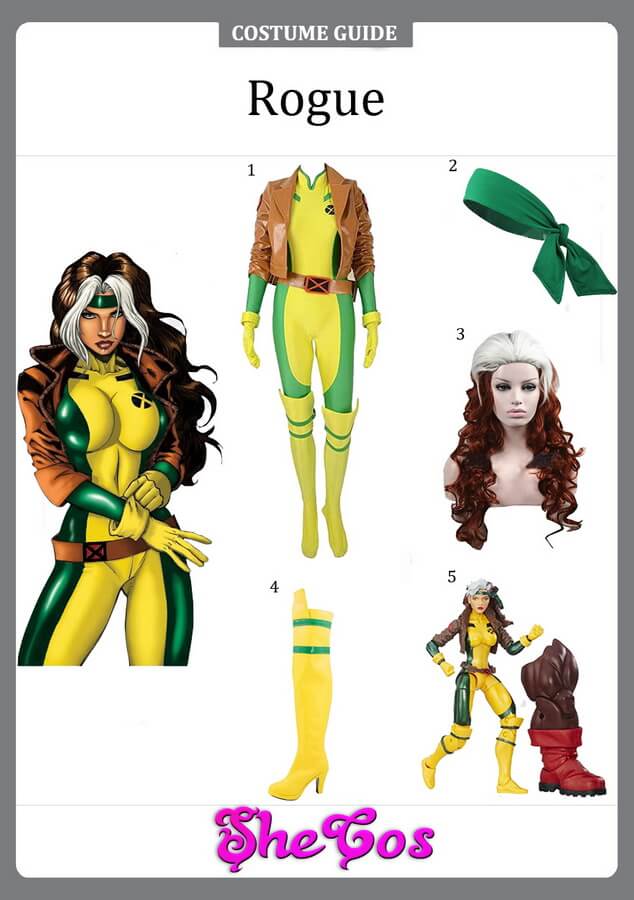 Parts you may need
1. Full Rogue Costume                                Check Price
2. Green Headband                                      Check Price
3. Rogue Cosplay Wig                                  Check Price
4. Rogue X-Men Boots                                 Check Price
5. Rogue Figure                                              Check Price
The Best Rogue of X-Men Cosplay Ideas
When it comes to dressing up as Rogue, there are a lot of different options. The character has worn a lot of different outfit throughout her existence in the Marvel Universe. The outfit she usually wears depends on the version of the character. Her most famous and remembered appearance is the one she wore in the 90s X-Men animated TV series. This guide will feature Rogue's costume in the 90s TV series.
It consists of a tight full-body yellow jumpsuit with green on the sides of the body. The Rogue costume set will also come with a brown belt, an X-Men buckle, and a pair of yellow gloves. The costume also has a brown jacket that the character wears and a green headband. The full costume is completed with a couple of yellow boots with green stripes and a long brown curly wig with white on the top for the character's hairstyle. The set will also include a Rogue figure.
About Rogue Costume
Rogue is one of the most popular members of the X-Men. Although she plays mostly as a supporting character throughout the franchise, her combination of beauty, ability, power, and charm make her one of the most recognized and easily remembered characters in the franchise. These combinations, together with Rogues appealing personality, is also one of the reasons why a lot of people like her.
It also makes her one of the favorite characters that people dress up as when they want to look like X-Men characters. If you look at the Rogue cosplay photos, you can see how good it is for ladies to choose her if they are going to a costume party, comic convention, or a photoshoot. If you have a male partner, get him to dress up as Gambit to represent one of the cutest couples of the X-Men franchise.
X-Men Rogue Cosplay Makeup Tutorial