Mitsuri Kanroji is one of the characters of the hit anime and manga series Kimetsu No Yaiba, or Demon Slayer in English. She is a demon slayer and is also the Love Pillar of the Demon Slayer Corps, making her one of the powerful swordsmen in the series. Mitsuri is passionate and emotional, and she likes complimenting people. But since she is also shy and gets flustered easily, she only compliments them on her head.
Though she is shy, gentle, and likes to give compliments, that all changes when she is facing a demon. All her passion and emotion are used in showing no mercy to demons. This article is a Mitsuri Kanroji cosplay guide.
The Demon Slayer Mitsuri Kanroji Cosplay Tutorial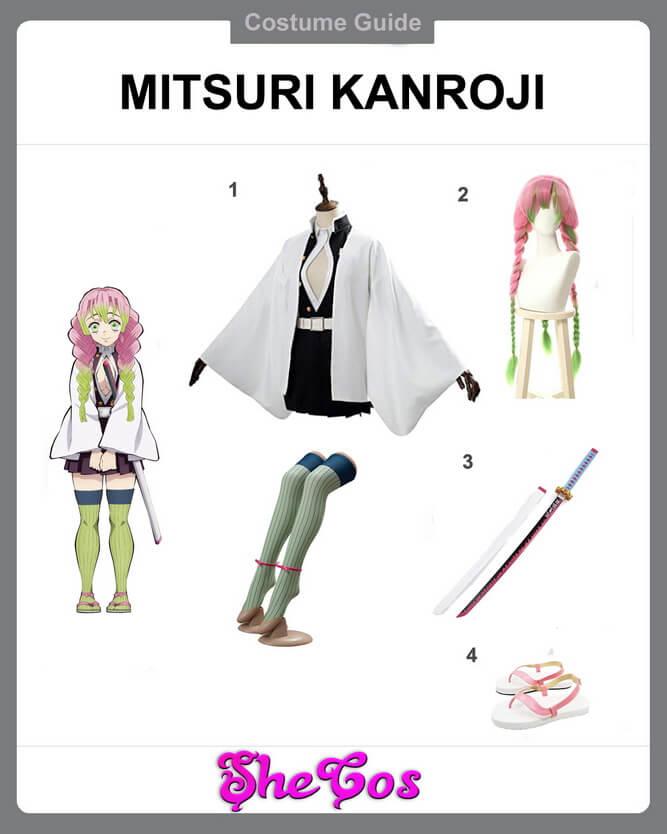 Parts you may need
1. Full Mitsuri Kanroji Costume                Check Price
2. Pink  Mitsuri Kanroji Wig                      Check Price
3. Sword with Scabbard                              Check Price
4. White Slippers                                         Check Price
The Best Mitsuri Kanroji From Kimetsu No Yaiba Cosplay Ideas
Unlike the other demon slayers in the series, Mitsuri Kanroji doesn't only wear one outfit throughout her appearance in both the anime and the manga series. The demon slayer uniform she wears is also slightly different from the others, making her a unique-looking demon slayer. This guide will feature Mitsuri's demon slayer outfit.
It consists of a black demon slayer uniform top that has the breast area unbuttoned and a matching black skirt instead of the usual hakama pants. The cosplay set will also come with a white kimono that the character wears on top of her demon slayer uniform. It also includes a white belt and a pair of lime green striped socks with navy blue design near the opening. The Mitsuri Kanroji cosplay set also comes with a demon slayer sword with a white scabbard and a pair of white slippers with pink straps. The costume is completed with a long pink wig in Mitsuri Kanroji's hairstyle.
About Mitsuri Kanroji Costume
As an emotional and passionate person, Mitsuri Kanjori can't hide how she feels, even if she is shy. Her passion always shows in every action and words that she says, which lets other characters know how she feels. She would also like to get married, but she wants a man who is stronger than her. It makes it hard for her to find a suitable partner because she is one of the strongest characters.
Mitsuri Kanroji is not only all about strength, emotions, and passion, but also she is one of the prettiest characters in the series. The reason why she wears a different demon slayer outfit is so that her curvaceous body can fit properly in the uniform. The character's combination of overall appearance, personality, and power make her an excellent cosplay option for ladies looking to cosplay characters from the series. If you look at the Mitsuri Kanroji cosplay photos, you can see that her attractive appearance will make any wearer a head-turner in costume parties or comic conventions. The character is also a good cosplay option for photoshoots.
The Mitsuri Kanroji Cosplay Makeup