Violet Evergarden is the main character of the animated series with the same name. She was a former soldier, belonging in the Leidenschaftlich Army. She was a perfect soldier, possessing extraordinary fighting abilities. It made her the army's weapon, and she was treated as no more than that. But one soldier showed compassion and genuine care to her, Gilbert Bougainvillea. He even said "I love you" to Violet during the final stages of the war.
After the war, she started working at the CH Postal Company as an Auto Memories Doll. She's also on a quest to know what the word "I love you" means. This article is a Violet Evergarden cosplay guide.
The Violet Evergarden Cosplay Tutorial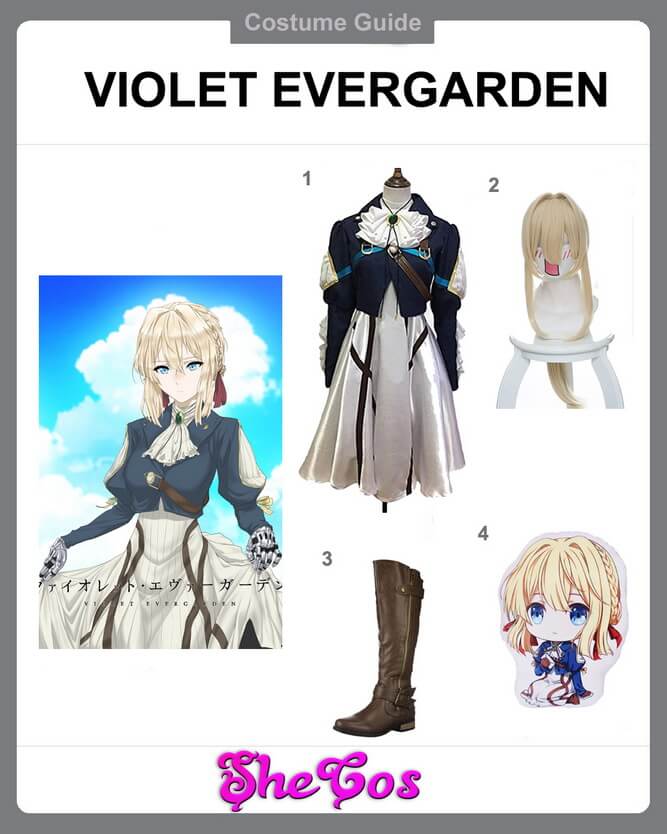 Parts you may need
1. Full Violet Costume                                 Check Price
2. Blonde Violet Wig                                    Check Price
3. Brown Violet Boots                                  Check Price
4. Violet Evergarden Doll Toy                     Check Price
The Best Violet Evergarden Cosplay Ideas
Though Violet Evergarden is a soldier, she was a beautiful and attractive lady. A lot of people consider her beauty as extraordinary since her appearance is doll-like. The character has worn several outfits throughout the series, but what people mostly remember is the outfit she wore when she became a Doll. This guide will feature Violet Evergarden's Doll outfit.
It consists of a white dress with a ribbon-like scarf on the neck area and black lines on the sides of the skirt. The cosplay set will also come with a dark blue crop jacket with white design on each shoulder that the character wears on top of her dress. The collection will also have a waist-length blonde wig in Violet Evergarden's usual hairstyle. The cosplay is completed with a pair of shin-length brown boots. The costume set includes a Violet Evergarden doll toy as well.
About Violet Evergarden Costume
As a child soldier, Violet Evergarden didn't understand what human feelings are and how to express or perceive them. She also couldn't speak or understand speech, except for the orders to kill. The character also doesn't have the concept of right or wrong, which is why she was always seen as an emotionless killing machine who only follows orders to kill to live.
But things changed when Gilbert Bougainvillea came into the picture. He showed her that there is life outside of the army and that she can live that kind of life if she chooses. Gilbert was the one who also taught Violet how to speak, write, and understand speech. That is why the character seeks to understand human emotions, especially love, after leaving the army. As the protagonist and most beautiful character, Violet Evergarden is a good cosplay option for fans of the Violet Evergarden series. If you look at the Violet Evergarden cosplay photos, you can see that the character is a great cosplay option for costume parties or comic conventions. Her beauty is a great look for any lady looking to stand out with their appearance.
The Violet Evergarden Cosplay Makeup Tutorial